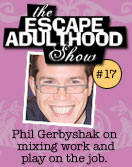 In this episode, brought to you from studio 203 in Madison, Wisconsin, we interview Make It Great guy Phil Gerbyshak, who is an author, speaker, and President of the National Help Desk Association. We talk to Phil about mixing work and play on the job. We also discuss dodgeball, easter eggs, and lots of ways to have fun at work.
Show Notes:
• Check out Justonemorebook.com to discover some great read-aloud children's books. • DIY Office Space (Business 2.0)
• Are Fun and Work Oxymoronic? by Christopher Noxon
• Learn how to add some more fun to your workplace with the classic book, Fish!
• Visit Phil Gerbyshak's official website to learn more about him and how you can Make It Great! You may also want to get a copy of Phil's book, 10 Ways to Make It Great!
• Phil also recommends Dogpoopinitiative.com
• Win a hot air balloon ride — participate in the Kim & Jason Easter Egg Hunt!
Win Stuff: A listener named Jennifer won a $20 gift certificate to the Lemonade Stand for answering the question, "What was your favorite children's book as a kid?" (It was Mandy, by Julie Edwards, by the way.) You can win a $20 gift certificate to the Lemonade Stand by letting us know, "What is your favorite way to have fun at work?" Leave a comment!
Show Music: Coyote Sleeps by Ethan Elkind
Show Length: 47 minutes, 20 seconds
Shout Outs: Thanks to everyone who shared their favorite children's books from the last episode, and Phil for the GREAT interview!