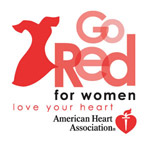 Yesterday Kim and I had the opportunity to attend a Go Red for Women luncheon in Madison. It was a fundraiser for support the American Heart Association. We had a chance to see our friend Eliz in action, and were reminded of some very sobering statistics…
Heart disease is the No. 1 single killer of women over age 25.
It claims more lives than the next four most common causes of death combined.
One in 2.6 female deaths are from heart disease, compared with one in 30 from breast cancer.
Only 13 percent of women view heart disease as a health threat.
One of the things Kim and I advocate with this whole "be more childlike thing" is the idea of living life abundantly and to the fullest. To play, pursue your passions, and dream big. However, studies show it's hard to do those things if you're dead.
You are someone's mom, wife, daughter, sister, friend (unless you're a dude, and if so, you should e-mail this post to your mom, wife, daughter, sister, and friends who are of the female persuasion). Please, please, please do yourself a favor and take the online Go Red Heart Checkup right now. Get tested. Get informed. The life you save could be your own, because you've got a lot more bubbles to blow, hugs to share, and flowers to smell.
[tags]American Heart Association, heart disease, Eliz Greene, Go Red, Go Red for Women, women's health, heart health[/tags]