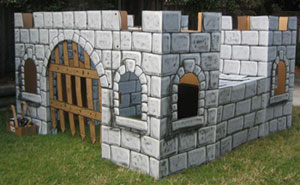 It figures that I'd find this project after I've already disposed of the gazillion boxes we used to help us move. On the other hand, none of them were refrigerator boxes, and you need eight of them for this plan (don't worry though, they give you tips on how to get free cardboard boxes). The plan comes from Mr. McGroovy's (hat tip to Lifehacker) and is quite detailed with nice, easy to understand diagrams (me like pictures). They also sell box rivets for a new level of cardboard construction and offer ideas on how to easily paint your castle in a realistic manner. Too cool.
August is halfway over, meaning summer is on its way out. This project just might be the perfect last hurrah for you and your family, and it's a GREAT way to escape adulthood.
Heck, had these plans been in my possession sooner, we may have been in a new office years ago. I wonder how our landlord would feel about us putting in a moat…
UPDATE: Ok, I'm an idiot. I actually linked to this a year and a half ago. I guess my memory is not so good. But it also goes to show how cool I think this idea is, and that you can find some other really cool stuff if you dig around the archives.
[tags]cardboard castle, cardboard boxes, Mr. McGroovy's, craft project, refrigerator boxes[/tags]