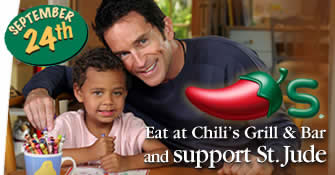 About every other year or so, while channel surfing, I happen upon Marlo Thomas talking about St. Jude Research Hospital. Like a Wisconsinite to cheese curds, I am inevitably drawn in for the next hour, and left sitting on my couch crying my eyes out.
Am I the only one?
Well, Jason and I have both had these experiences together, which is why we eventually picked St. Jude as one of our Big 6 Charities. Kids should not have to suffer illness and pain. Period. One of our goals is to someday write them a $1,000,000 check. We believe strongly in their fight against these fatal diseases that too often tragically steal away the childhoods of innocent kids.
Ever wish YOU had a million dollars to help sick kids?
Well, I have a way for 25,000 of us to be able to do just that. All we have to do is go to eat at Chili's on Monday, Sept. 24th and spend $40.00. (That will add up to 1 million dollars!) They are generously donating 100% of their profits that entire day to St. Jude. So, even if you go and spend $5, every cent will go straight to helping kids. So cool!
It's all part of a bigger vision…
Chili's hopes to raise $5 million through this year's campaign which will go toward its $50 million, 10 year plan to fund the Chili's Care Center, a state-of-the-art research and clinical building. Opening on the St. Jude campus in November 2007, the building will house St. Jude's Department of Radiological Sciences, the national Pediatric Brain Tumor Consortium (PBTC), inpatient beds and activity areas and new research laboratories. To date, Chili's has raised more than $10.5 million for the hospital.
So, start making your plans. Get a group together and have a fun meal at Chili's on Monday!!!
You rock, Chili's!
[tags] St. Jude Research Hospital, Chili's, Monday, September 24[/tags]