If you had lived in the 1800's, would you have been an explorer? Jason and I watched a very cool IMAX movie about the Grand Canyon during our visit there last week. (Here are some pictures from our trip, by the way.)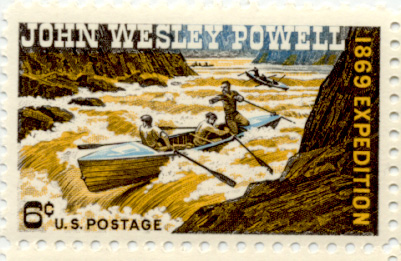 The movie gave a history of some of the canyon's explorers, including a certain Civil War veteran, John Wesley Powell. In 1869 he heroically lead a famous boat expedition through the gorge. He and his crew of nine men tackled the Colorado River in four small wooden boats.
Yikes, Powell! What were you thinking?
Powell, a one-armed Army Major, and his men were the first to ever make this trip successfully. Talk about having the curiosity and adventurous spirit of a child!
The part that really stuck out to me was towards the end of their expedition, although they didn't know it was almost the end. They had gotten through some crazy rough rapids, leaving the men frazzled and frightened. Discussions were happening about the sanity of continuing the journey, knowing their lives were in real danger. A few of the men had made up their minds that it would be nuts for them to keep going. They were done with the whole "almost dying" thing again and again. Powell and a handful of his men gallantly decided to keep going. They had come so far. It was a sad departure, as both groups of men feared for the other group's safety.
The end of the story is very interesting. The next treacherous section of the river that Powell conquered was the last patch of danger they would face. Meanwhile the men who walked away, fearful of the waves before them, were never seen or heard from again.
Here Powell and his sidekicks conquer the gorge, eventually being the ones to name it the Grand Canyon, and the other men were most likely killed by animals or nomads. No one knows for sure. Doesn't that just stink for the men who walked away? Initially, they seemed like they were the smart ones, walking away from the certain danger. Yet, they based their decision to stop on fear. Ironically it was more dangerous for them to abandon ship.
Have you ever made a decision (of action or inaction) based on fear?
I've seen any examples of this, and I'm sure you have too. I know someone who moved into a small and more high-maintenance house because she thought she was going to be laid off from her job. Thirty years later, and no lay off yet. She still drives by that house with regrets of what could've been.
I know of a number of elderly people who grew up during The Great Depression who lived their lives in fear surrounding their finances. Many hoarded money all over their houses, fearful of trusting banks, and sadly died with thousands of dollars unspent due to fear.
I know a man who was fearful of flying. This fear prevented him from visiting his children and grandchildren because it took so long to drive across the country, which became increasingly difficult with his age and health. He missed out on many memories and occasions, all based on fear.
How is fear impacting you? Do you need to stick it out for a while longer? Do you need to walk away from something?
There may only be one rough patch of water left before you get there. Conquer your fear.
[tags] John Wesley Powell. The Great Depression, Grand Canyon, Colorado River, fear[/tags]