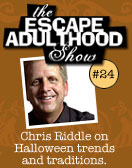 In this episode, brought to you from studio 315 in Madison, Wisconsin, we interview "Mr. Halloween" Chris Riddle, the official Halloween trend spotter for American Greetings, about his favorite holiday. We also talk about candy and childhood obesity, the original jack-o-lanterns, and some exciting new Adultitis-fighting things. Just click "Play" to listen to the show…
Show Notes…
• Learn more about American Greetings' Chris Riddle.
• News: Sammamish mom urges holiday from sugar on Halloween (Seattle Times)
• News: On Halloween, let children indulge (The Free Lance-Star)
• Should Halloween be "green?" Visit www.greenhalloween.org to learn more. Tell us what you think. Leave a comment!
• Watch the new speaking demo video for a taste of what Kim & Jason's speaking programs look like.
• Pick up a copy of the brand new Escape Plan journal, available now at the Kim & Jason Lemonade Stand. (Or place an order of at least $50 and get a copy for free!)
Win Stuff: You can win a $20 gift certificate to the Lemonade Stand by letting us know, "What was your favorite Halloween costume as a kid?" Leave a comment!
Show Music: Toccata and Fugue in D Minor written by J. S. Bach. Produced by Kevin MacLeod.
Show Length: 42 minutes, 9 seconds
Shout Outs: Thanks to Chris Riddle and Bryan Murdaugh!