Our latest featured fan is Marci Jezierski, who was our September S.W.E.L.L. prize winner. Marci shares,
This picture I'm sharing is fun but needs a little explanation. (Marci is on the left.) A friend and I were at a birthday party and as it was winding down, we were sitting on the couch together and decided to play some games. (Several rounds of tic-tac-toe, a half a dozen hangman phrases, and then we decided to draw.) I drew a silly picture of a person with "curvy" lips and my friend said the lips looked like a banana… and that was the beginning of the "banana lips" madness!

We started signing our emails to each other "Miss (name) Banana Lips." Soon after we started sending each other photos, complete with banana lips! I sang her "Happy Birthday Banana Lips" when I called her on her birthday… and the fun continues! It's a silly thing, but all started from fun time we spent together… and we still get the giggles every time we say "Banana Lips" or see the pictures!
• Hometown… Palatine, IL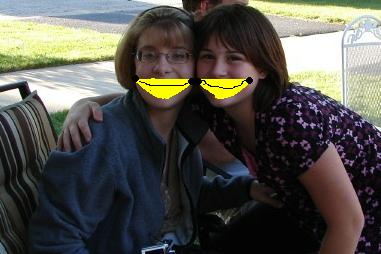 • My biggest dream… happily married to my dreamy-eyed, warm, caring husband, enjoying our days with at least three beautiful children, living in a modest home with a beautiful wrap-around porch and a wooden swing to enjoy breathtaking evenings and mornings.
• My inspiration… my patients are my inspiration. I work as a physical therapist at a large teaching hospital in the Chicago metro area, I am currently treating patients on the Oncology Unit. Each of them faces their experience with cancer differently… a terrible disease, yet I see in them STRENGTH, DETERMINATION, HOPE and making an effort to find JOY in each new day!
• When I was a kid, I… loved to go on walks or bike rides with my Grandma. My siblings and I and the neighborhood kids would walk/ride to the high school a block from the house, and enjoy finding coins in the empty parking lot and riding across the speed bumps!
• One way I stay childlike is… wearing mismatched socks with my scrubs to work – my patients can't help but smile and laugh, and I enjoy them too! (You can see them at the Lemonade Stand.)
• What I know so far… I need to be humble and be conscious of what God wants me to see, to hear and to understand.
• My favorite thing about "Kim & Jason" is… the creative ways I am reminded of the innocence of childhood and I am challenged to return to childhood and fight Adultitis! Plus, I am so blessed by my friendship with the "real" Kim & Jason!