When I was little every year for my birthday our family would end up at ShowBiz Pizza, "Where everyone can be a kid." There was never a truer statement. I remember waiting in the ski ball line behind many a grown-up. That place was an experience… the "gourmet" pizza, the dazzling animatronic performers singing their imaginary hearts out, and don't get me started on my favorite games (air hockey) and top notch prizes. It was heaven!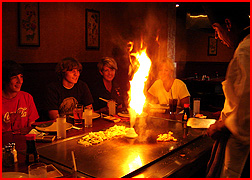 I was reminded of our family tradition the other night when my best friend Jaimie and I ventured out to Ginza of Tokyo for her birthday dinner. Little did I know that for a large portion of our evening I would feel like that five-year-old again at ShowBiz, needing reminders to eat because I'm so distracted by the entire experience.
We experienced our "show," I mean dinner, with eight other hungry folks surrounding a very entertaining Hibachi expert. He engaged us all… from spinning hard boiled eggs on spatulas centimeters from our noses, to throwing shrimp in all of our mouths, one by one. (Even though I don't like shrimp, I ate it! Parents, try this with your picky eaters!) He tossed food into his hat, warmed our chilly faces with the heat of the flames a number of times, while also sticking his hand in the flames to drag the fire across the grill. (Don't try that at home!) It felt like we were at STOMP, with his drum-like knife work and creative use-age of the salt shaker. He made jokes and we all laughed and laughed as if we had all had far too much sake. It was a blast!
As we start our fourth day of our 12 Days of Wishmas, (read about Day 3 here) it excites me to think about the experiences we are giving our customers. We've had quite a few "No, thanks, I don't have any kids with me" replies when we invite them to try our fun childlike activity. When we give them permission to do it anyway, the inevitable response is a big cheesy grin. It really doesn't take much convincing, usually just a simple invitation, which proves our theory that we are all "aching for a little silliness."
Blue squares have been transformed into beautiful snowflakes, gingerbread men have been donned with frosting and sprinkle clothing, and bags of reindeer food have been prepared for the "big night." Shopping is shopping… whether it's Wal-Mart or Macy's, it all gets pretty stressful this time of year, but I'm thrilled to know that a visit to the Kim & Jason store is an experience. You may not be able to exchange tickets for a giant pencil or foam hand, but you won't walk away empty handed.
What sorts of childlike experiences have left you smiling lately?
[tags] Ginza of Tokyo, Kim & Jason, Wal-Mart, Macy's, Hibachi, ShowBiz Pizza, silliness, experiential marketing[/tags]