This week's Escape Plan challenge (aka our Tip of the Week) is #28: Five Hundred Pennies. Buy something that captures the spirit of childhood for under $5.00 (including tax).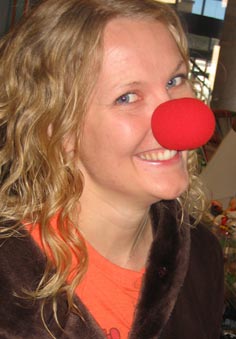 Remember when you were little and you had that quarter (or nickel, depending on the generation) burning a hole in your pocket? One of the easiest places to spend my allowance was at K-Mart. They had a nice selection of paper dolls, as well as an impressive display of vending machines – you know the kind that have the ginormous gum balls, rings, jelly bracelets, tattoos, Ike & Mikes, and bouncy balls. There was so much to choose from! I was thrilled to "spend it all in one place."
Last week when Jason and I were in Denver for some speaking events we ended up going to a neat shopping district looking for some ideas and inspiration for our retail shop and online store. We discovered a playful toy shop where we ended up spending a great deal of time. (Shocking, I know.) There were all sorts of goodies that would've served to accomplish this challenge successfully… one of them being this classic clown nose. Being a huge fan of the man who made this red nose so famous, Dr. Patch Adams, I had to get a picture. Something so simple and silly as a $2.99 piece of red foam really brightened my day.
Give this challenge a try this week and share with us in the comments on the Escape Plan blog what you decided to spend your allowance on and have fun annihilating the Adultitis in your life.