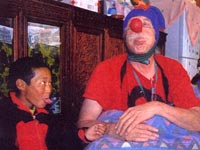 I got a cool letter from Patch Adams the other day. Yes, that Patch Adams. I had sent him an early review copy of my book, looking for some feedback. I was hard-pressed to think of anyone who was a better example of how to escape adulthood. I also sent him one of our greeting cards inspired by the part in the movie when the old lady got to live her dream of swimming in a big pool of noodles. I later found out that that was actually one of Patch's dreams. Anyway, here's what he wrote (If you click on the picture, you can see the actual letter):
Dear Jason,

Thank you for your kind words. Since the Hollywood film, I've not had time to review a book. I'm a book reader. My little apartment has 14,000 volumes. So I've only put a blurb when I can have fully read the book and contemplated it. I'm sorry. I'm a long, big fan of cartooning. It's a wonderful and important topic. I've been able to avoid adulthood for 42 years (post 18) has given me a life I love.

Good luck,

Patch
I thought it was pretty cool that he took the time to respond, especially since he's so busy traveling the world helping people with smiles and laughter. Check out the cool things he's doing with the Gesundheit! Institute.