Being the youngest, I often had the experience of an only child. With my next oldest sister two years ahead of me in school I had two years, when I was three and four-years-old, where I had the house to myself (me and my mom, that is). As I mentioned in December, Mr Rogers became a dear friend of mine, along with the smiling faces and furry friends on Sesame Street. I felt like I had a whole bunch of friends- Mr. Hooper, Bob, Gordon, Susan, Luis, Maria. Not to mention the even sillier ones like Big Bird, Mr. Snuffleupagus, The Count, and Oscar the Grouch.
Sesame Street was simply a part of my existence. I sang "Rubber Duckie" in my own bathtub.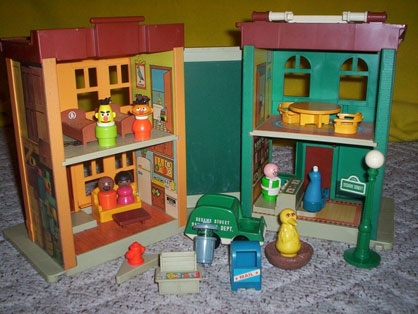 (He really DID make bath time "Oh So Fun!") I played for countless hours with my Fisher-Price Little People Sesame Street set. I thought about the Cookie Monster every time I ate my own cookies. I even called water "agua"… all because of that magical street.
Last week Jason and I had the privilege of interviewing Bob from Sesame Street for our recent podcast. You may remember he was the music teacher on the show. At one point we were talking about the famous song "Who Are the People in Your Neighborhood?" He told some fun stories about different celebrities that he sang the song with over the years. Towards the end of our interview I had an inspired thought… maybe I can ask Bob to sing for us. To my childlike delight, he not only agreed, he customized that childhood classic with our very own names…
By the time he was done singing, I have to admit, I had a tear in my eye. My four-year-old self was simply giddy with childlike delight! (It still is!) It was a childhood dream come true… 25 years later.
I'm sure I'm not the only one who grew up on Sesame Street. Leave a comment to share who you would consider to be YOUR favorite Sesame Street character? Don't forget about some of the obscure ones like Forgetful Jones or the Two-Headed Monster.
Enjoy this video clip of Bob singing with some of his neighbors. It's guaranteed to bring back some great memories.
http://www.youtube.com/watch?v=Cs5kjsaNEL8