I love spring in Madison. The bright green grass, the confident and colorful tulips, and the light green buds on all of the trees. It takes a number of rainy days to get this glorious combination, though. Here's a rainy day idea that will be sure to lift your spirits… and bring back from treasured memories.
Build a tent made of couch cushions and blankets. Remember when you did this as a kid? Just think about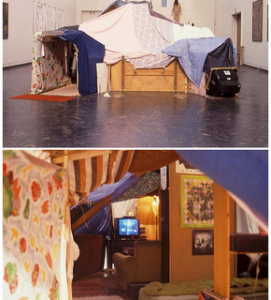 how much cooler you could make it, now that you have a little life experience on your side. Brainstorm the layout and materials. Try to identify unconventional items that may work well to secure your design. My childhood standbys were rubber bands and heavy books, to secure the blankets. Once it's operational get out the flashlights, some good books, and enjoy the cozy (and nostalgic) comfort.
Check out this fort made for grown-ups. (Hat tip to Hillary Johnson.)
How did you make your living room forts when you were little?