This week's Escape Plan challenge (aka our Tip of the Week) is #15: Taste Bud Conspiracy: Eat something you've never had before.

Jason and I are officially guacamole people now. Whoopty-do, you're saying (especially if you live in CA), but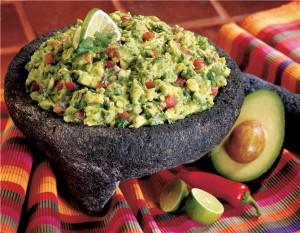 it's a lesson in trying new things. Over the last year or so we have been in 3-4 social situations where fresh guacamole was the center of attention. Being in small groups, we tried it politely, even though we were sure it was going to taste how it looked- like baby "you know what." The first few times it was hard to get past the visual bias, and the new chunky texture. By the third and forth time I found myself adding more and more of the green stuff to my chips. Jason did too. Mmm… not bad. We had begun to like it… so much so that we even ordered some at a Mexican restaurant when it was just the two of us. Over spring break Jason got daring and decided to make some homemade guacamole. It's official… guacamole is now on our list of "likes," all because we politely tried it a few times.
Think about the things you are surrounded by that others seem to really enjoy and ask yourself, why don't I like it? Have I given it the ol' college try? Trying something on 4-5 separate occasions is the key. So, have some fun trying something new this week. Remember, kids are trying new things all of the time… and just because you may have thought something was grody when you were little, doesn't mean you will think that today… unless of course you're a member of the Picky Eating Adults Group.
Leave a comment on the Escape Plan Blog to tell us what you tried this week. Bon Appetite!