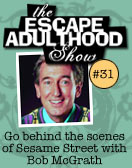 In this episode, brought to you from studio 315 in Madison, Wisconsin, we continue the second half of our two-part interview with Bob from Sesame Street. We ask him about his secrets of success and his favorite part about working on the show. We also talk about recess at work, a sweet chocolate calculator, and our favorite Sesame Street characters. Just click "Play" to listen to the shows…
Show Notes…
• Learn more about Bob and buy his music and books at BobMcGrath.com.
• Get the full history of Sesame Street over at Wikipedia.
• News: Recess At Work Day costs little and may pay off in profits (Arizona Daily Star)
• Learn more about Rich DiGirolamo and Recess at Work Day at www.nevergrowup.com.
Win Stuff: Sarah F. won last month's promotion. You can win a $20 gift certificate to the Lemonade Stand by letting us know, "What is your favorite way to have fun at work?" Leave a comment!
Show Music: Coyote Sleeps by Ethan Elkind
Show Length: 54 minutes, 14 seconds
Shout Outs: Thanks to Bob McGrath for the interview!