Today is Father's Day. I have to say my experience of this annual holiday is a bit different this year. Living with an expectant dad has allowed me to see fatherhood through a new lens. Yep, you read that right… we're having a baby! ETA: right around Thanksgiving. (Our Club K&J members have known about this for a few weeks.) It's all very exciting!
Even though the baby is only about 4 inches long, Jason has shown countless fatherhood traits over the last four months. Here are ten reasons I think Jason is the best father-to-be, this Father's Day.
1. He insists on carrying the laundry downstairs for me, so that I won't have to lift anything heavy.
2. He makes me a fried egg every morning, to make sure I start my day with some good protein.
3. He asks really insightful questions at our appointments.
4. He encourages me to rest and nap regularly.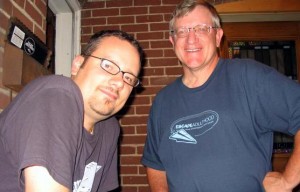 5. The first time I threw up in front of him, he rubbed my back and said all the right things.
6. He patiently entertained my constant baby chatter which inevitably consumed the first month.
7. He found a handful of good books to help him prepare for what's ahead.
8. He walks way slower than his normal pace, so that I can keep up, on our regular walks.
9. He tells me I'm beautiful, even when it looks like I have a Wisconsin beer belly.
10. Every time he talks about the baby he instantly has a huge smile on his face.
I am blessed! All of this is not a surprise to me, however. Jason has had an excellent model in his own life for what an awesome dad is all about! It's true what "they say" about the apple falling from the tree and all…
Happy Father's Day to all of the dads and dads-to-be out there!!