This week's Escape Plan challenge (aka our Tip of the Week) is #6: Daydream Believer: Write down one big dream of yours. Draw or find a picture to go with it and put it somewhere you will see it often.
This is such a fun challenge! Who doesn't like to dream about the future? It's inevitably filled with hope and possibilities of wonderful blessings!
The law of attraction is a mysterious thing. I had a neat moment last Friday when I was cleaning out some papers near my desk. I found two copies of Wisconsin Women Magazine, one from October 2007 and one from December 2007. I remember picking them up with the conscious mindset that I wanted to be in there somehow. Maybe if I looked through them closely, I'd find a connection. Of course, as life happens the magazines got placed under some papers and weren't seen again for what ended up being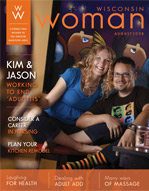 seven months… the exact same day that the August issue of the magazine came out, with Jason and I on the cover. The cool part of this story is that we were approached by them to be on the cover. (Read the article here.) By the way, Jason broke records with this… being the first man to ever grace the cover! Don't you love his socks?!
Don't skip this challenge! It could truly impact the details of your future.
Share with us in the comments of the Escape Plan blog what dreams you're recording this week. Be sure to stop back and let us know when they are accomplished.