Saturday afternoon Jason and I ended up at the grocery store to pick up some ingredients for the recipes for the weekend. (Jason treated me by making three very yummy dinners!) As many couples do in the grocery shopping situation, we split up to divide and conquer our list. I was about done and I went looking for Jason, only to find him walking from the cereal aisle looking like this…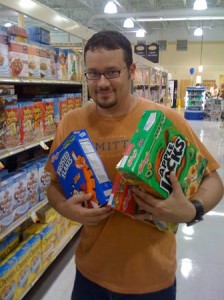 Yes, this is the actual picture of him from that exact moment that I took from my new iPhone. I instantly started laughing hysterically- for a couple of reasons. First, because it's just more proof that I am, indeed, married to a five-year-old boy. (I wouldn't want it any other way!) Second, because just two days earlier at a speaking gig the host introduced Jason using the bio we had given her. Among other tidbits, it read… "Jason grew up loving superheroes and Star Wars. He also enjoys collecting fun retro t-shirts and eating sugar-laden cereal." His intro is definitely the truth, the whole truth, and nothing but the truth. Yes, you are correct, he is holding a box of Captain Crunch, Apple Jacks, and Frosted Flakes.
Jason and I are often laughed at when we tell other grown-ups that neither of us drink coffee. Of course, those "two cups before 10AM" people cannot understand how we manage to get through the mornings without that caffeine jolt. Well, I think I put my finger on it…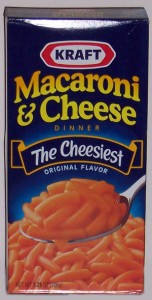 sugar-laden cereal!
One of my guilty pleasures from childhood happens to be Kraft mac 'n cheese, the kind in the box with the powdered cheese. After all, it is the cheesiest! Yum!
An easy way to fight the daily dulldrums of Adultitis is to revisit that comforting and fun indulgence from childhood.
What do you indulge in from your yesteryears?