This week's Escape Plan challenge (aka our Tip of the Week) is #38: Paste is Not a Food Group: Make someone a homemade gift to show how much you care about him/her or to thank him/her for a job well done.
Kids are experts at this! Any kindergarten teacher will tell you that there simply aren't enough bulletin boards available to post all of the "gifts" that they receive in a school year.
Jason, being the creative/artistic (and childlike!) type has always been one to show his appreciation and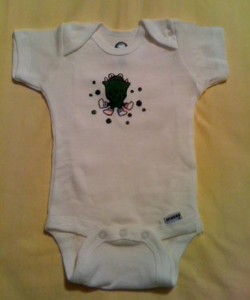 affection through homemade gifts. His family home is filled with gifts he made for his parents over the years. Heck, that same creative thoughtfulness is how this entire business got started in the first place. Following suit he came up with an idea recently for Baby Kotecki. One of the great things about his new Kim & Jason project, Monsters, is that he has the opportunity to paint… and he's decided to extend the fun. We picked up some very tiny onesies and he is painting pint-sized monsters on them for the new little monster who will be joining our family around Thanksgiving.
So, what talents do you have that you can share? Let us know in the comments of the Escape Plan Blog what you decide to make for a friend or family member this week. That personal touch and time invested will mean more than any gift found at your local Supermart.