I was blessed to have grown up in a household with a super fun dad. Every 4th of July I would wake up to the sound of fire crackers being set off outside my bedroom window, along with patriotic music blaring from the living room. Every April 1st he'd wake us up with a big story for us about school being canceled or a snow storm that hit overnight. My dad is one of those fun dads!
I am confident Jason will be one of these dads. Afterall, it is true what they say about marrying someone like your dad. Jason proves this theory on a daily basis.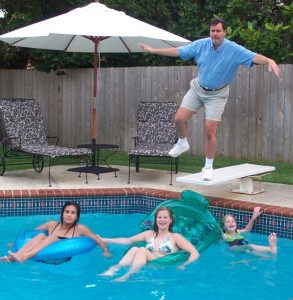 We ran across another fun dad last week at a speaking program in La Crosse, WI. He came up to us after the event and shared this story…
One weekend his grown children, wife and grandkids had decided to head up to their cabin for a getaway. He was not able to join them because of some obligations at work. His family went up on Friday night and soon after they left it became apparent that he would be able to get out of his work obligations and join them. He decided to make his change of plans quite the surprise. He put on his rattiest looking jeans, work boots, and old hooded sweatshirt. He then grabbed a bottle of liquor and wrapped it in a brown paper bag. When he got to the cabin, he parked down the street so his family wouldn't see his car. He arrived early Saturday morning, just about the time he thought they would be getting up.
This goofy dad proceeded to stagger around the back yard with the bottle, keeping his hooded head down, so that his unsuspecting family wouldn't recognize him. Out of the corner of his eye, he could tell there was activity in the house and that he had been spotted, but no one had come out yet, so it took it up a notch. He staggered onto the boat dock, as if he was going to fall into the water…. still no visits from any of his family members. Getting desperate to be discovered he came up with a surefire way for them to find out who this backyard bum really was. He made his way to the front yard and started staggering around his wife's car. He even went so far as to open the door and start to get it. Just as he did this the front door sprung open and out marched his angry wife. "Look buddy, I don't care what you're doing or where you do it, but you're NOT doing it inside this car!" At that, her husband lifted his head and said, "Why not, I paid for it?"
Boy, was she shocked! As this fun dad stood there and told us this story, a childlike enthusiasm came over him. It was as if he was reliving it all over again. His wife, a good sport, just shook her head and assured us that her husband has managed to avoid Adultitis for many years.
Are you as playful as this dad? If not, ask yourself, why not?
Share with us a story about a fun person in your life and how they manage to spread this joy to others.