We've sanctioned a food fight of epic proportions! Sixteen classic foods are squaring off in a tournament to see which is the All-Time Greatest Childhood Food. The winner will be decided by YOU! Place your vote in the second round matchup below. (View the current tournament bracket.)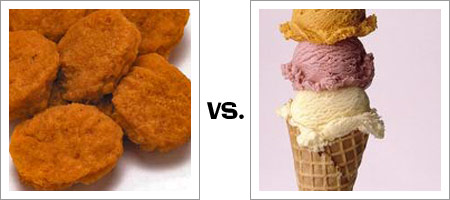 Chicken Nuggets or Ice Cream Cones?
Ice Cream Cones (74%, 26 Votes)
Chicken Nuggets (29%, 10 Votes)
Total Voters: 35

Loading ...