In less than a month, on Valentine's Day, Jason and I will celebrate fourteen years of being a couple. Yep, we had our first date on February 14, 1995, eating dinner at Monical's Pizza in Princeton, Illinois. How far we've come. I've learned a lot from him over the years and now that we've become parents I find myself learning tons more about him and from him each day. It's pretty cool.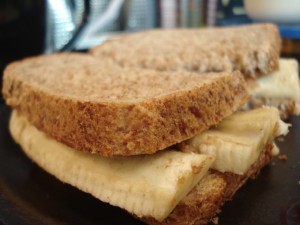 One thing I've noticed is that Jason, being the creative type, has invented all sorts of little games and routines with Lucy. He has a variety of things he does with her at the changing table (like "eating up" her grub worm-looking toes), they dance around our living room to our playlists (which she adores), and he has countless nicknames for her (two of my favorites are Chief Chirpa and banana sandwich). Simply put: they have fun together! Even though it's still rare to see a smile from her at this young age, it's obvious by her bright eyes that she is in love with her daddy and enjoys the whimsy he brings.
It's cool to be around people who keep it light. I am challenged by this because I admit, I have found myself falling into the camp that many primary caregivers fall into… rote routine versus creative fun. It's not that I'm too serious or boring with her, I just often don't take that extra step that I've noticed Jason takes to make things even MORE fun. Watching him doing this, though, I am inspired to make a considered effort to build in our own unique and fun games, songs, and routines- just mama and baby Lucy. Everything just becomes less stressful and more fun when you keep it light. I have a feeling my efforts towards this will not be in vain.
What area of your life needs a little extra dose of fun? Your work, family time, your friendships? Especially moving into February, which tends to be a hard month for people in the Midwest (it's cold, the holidays are over, and you just get sick of being cooked up). What can you do to keep in light?
One tip I have is to surround yourself with people who inspire you to do this, friends who rise you up to new levels and make you better than you would be without them.