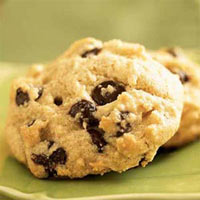 In our recent tournament, chocolate chip cookies were declared the All Time Greatest Childhood Food. Of course, you want to enjoy these treats as adults, but they are not so friendly on the waist line. I guess we aren't burning as many calories now, compared to when we were seven years old. Give this healthy recipe a try and don't forget to dip 'em in milk.
Ingredients:
1 cup all-purpose flour
1/2 tsp. baking soda
1/2 tsp. baking powder
1/2 cup butter or trans fat-free margarine, softened
1/4 cup sugar
1/3 cup firmly-packed brown sugar
1 large egg
1/2 tsp. vanilla extract
1 cup quick oats
1/2 cup bran flakes
1/2 cup semisweet or dark chocolate chips
Preparation:
Preheat oven to 350 degrees F. Line a cookie sheet with parchment paper or a silpat mat. Or spray with nonstick cooking spray.
Stir together the flour, baking soda and baking powder in a medium bowl. Set aside.
In a large bowl, beat the butter until creamy with an electric mixer. Beat in the sugars. Beat in the egg and vanilla extract. Add the flour mixture until well combined. Stir in the oats, bran flakes and chocolate chips.
Drop by teaspoonsful onto prepared cookie sheet approximately 1 inch apart. Bake 12 to 14 minutes. Cook on wire racks. Serve warm or store in a tightly-covered container for up to three days.
[Hat tip to kidscooking.about.com]