We've sanctioned a food fight of epic proportions! Sixteen classic foods have been squaring off in a tournament to see which is the All-Time Greatest Childhood Food.
So far, Ice Cream Cones have bested Hot Dogs, Chicken Nuggets, and Grilled Cheese. Meanwhile, Chocolate Chip Cookies made it to the final by beating French Fries, Macaroni & Cheese, and Pizza. (View the full tournament bracket.) Now it all comes down to this. We're down to the Championship – the winner will be decided by YOU!  Place your vote in the matchup below…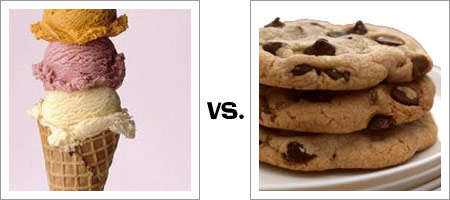 Ice Cream Cones or Chocolate Chip Cookies?
Chocolate Chip Cookies (58%, 39 Votes)
Ice Cream Cones (42%, 28 Votes)
Total Voters: 67

Loading ...