Our featured fan of the moment is Teresa Crevier. Teresa shares…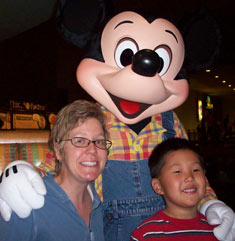 • My hometown is… I grew up in Norwich, NY, but now I live in Wethersfield, CT with my husband and son.
• My biggest dream is… To learn how to surf even though I can barely swim!!
• My inspiration… Walt Disney.
• When I was a kid, I… Had a secret club with my sister and some other kids on our street. We called it "Member's FBI." It used to be "Women's FBI", but then a boy joined, so we turned the 'W' over on our flag. Our purpose was to fight crime, but mostly we marched around the back yard singing our theme song.
• One way I stay childlike is… I play with my 5-year-old son who has a great imagination. That's us in the photo, with Mickey.
• What I know so far is… Probably not as much as I think I do!!
• My favorite thing about "Kim and Jason" is… They seem to know how to enjoy life, and generously share ideas about how to do that, which may not have occurred to the rest of us.