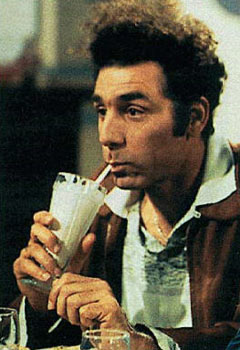 The lovable neighbor of Jerry Seinfeld has a lot to teach us about living life with less stress and more fun. Loved for his childlike perspective on life, Kramer stole the show week after week for the show's nine-year run. Although quirky and borderline childish at times, Kramer's life was filled with a childlike enthusiasm that kept the audience wanting more. Here are the simple lessons we can learn from the life of Kramer…
1. Express yourself. Kids have no problems doing this — just look at the wardrobe of a child who was given permission to pick out his own outfit for the day. If you like wearing big hair and vintage clothing, like Mr. Kramer, go for it! Wear what want! No one else is the boss of you, especially not Stacy and Clinton from "What Not to Wear." Kramer had no problem with this, often donning crazy patterned shirts with things like lobsters on them!
2. Treat yourself on a regular basis. Kids are always looking for candy. They treasure treats and they know that life is meant to be enjoyed. If that means you buy a meat slicer to cut fresh, ultra thin slices of your favorite meats, then go for it. Same thing with a good Cuban cigar — just try not to burn down any cabins!
3. Treasure people, not things. Kids just get this, you don't need to explain it to them. Kramer got it too. He spent more time in Jerry's apartment than his own. He adopted Jerry's friends and even befriended Newman. He would drop anything to hang out with his friends at the coffee shop.
4. Start bold new adventures. This is a very childlike trait that Kramer mastered almost every single episode. Whether is was starting Kramerica Industries and finding an intern, implementing The Real Peterman Reality Bus Tour, turning his apartment into the set of the Merv Griffin Show, or embarking on the project of creating the "bro" or "mansiere" with George's dad, Frank Costanza, he was always up for trying something new and not afraid to fail, (unless it involved clowns… yikes!).
5. Be present. Kramer was known for his grand entrance, with his violent bursts through Jerry's door, sliding in flamboyantly. When Kramer arrived, you knew it. This is the same for kids. Rarely are you unaware that there's a four-year-old in the room. They make their presence known. Be that kind of presence. Be quirky, or at least be you… to the fullest, whatever that looks like.