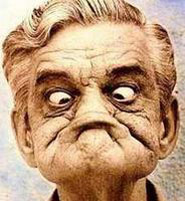 When life gives you something unpleasant, a big key to success and happiness is your ability to turn the presumed disadvantage into a positive advantage. Maybe you and your family are going through some sour times right now. If so, don't dwell on the negative. Instead, figure out a way to generate some laughter in order to help lighten the mood.
Here's a great game you can play with your family or friends. It's easy, cheap, provides hours of fun, and can be relived across years and generations. (Thanks for the idea, Pat!)
First, buy yourself a supply of really sour candy, like Warheads. The more likely it is to make your face fold in on itself, the better. Then, pull out a video camera. Now everyone in the group gets filmed, one at a time, eating one of the sour candies. But here's the catch: the goal is to show absolutely NO reaction to to candy at all. 
Granted, it's probably an impossible task, but the fruits of the effort are video worthy indeed. Slap the footage on a DVD, and you can enjoy watching the hilarity for many years to come.
And history will show that your family was one that didn't take itself too seriously.