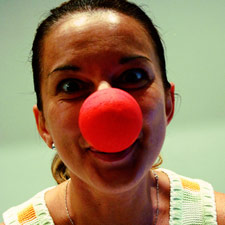 So an employer decides that his team needs a little cheering up. It's Christmastime, nearing the end of what has been a tumultuous year. He remembers his daughter's recent birthday, and a simple party favor he purchased that was a huge hit with the kids. It was also a huge hit at his own birthday party, some twenty-five years earlier.
A simple red clown nose.
He bought enough for every one of his employees — he had to visit three different stores to collect enough for everyone. Because of the holiday, the clown noses became "Rudolph Noses" and everyone was encouraged to wear one.
He wore his all day long.
So the employees wore them too, and had quite a hoot. Laughter was everywhere. The customers enjoyed the fun as well. After all, it's impossible to take yourself too seriously while wearing a clown nose.
Now, this didn't occur at a place you might expect, like an elementary school or a design firm or an internet startup. Nope, this happened at a bank, arguably one of the least desirable places to work during this economic downturn. A place often filled with stuffed shirts and even stuffier demeanors. The story is true. The ringleader was the CEO, and his name is Morty. I met him today in Tampa, Florida.
Many industries have been hit hard by the weak economy, maybe yours is one of them. Don't wait for someone on the news to give you something to smile about (you might be waiting a long time.) Clown noses cost about a quarter. If the CEO of a bank can give his employees permission to have a little fun with some red foam, imagine what fun you could have where you work.
The expense is minimal, but the benefits could be priceless.