The fourth of July is days away and our freedom is definitely a reason to celebrate! Independence Day presents a great opportunity to have some extra fun. With summer underway, it's often one of those holidays that sneaks up fast and is gone before it arrives. Don't miss out this year. Here are a few ideas to get you started…
1. Sparkler Signatures
Sign the sky with your name using sparklers. The smell alone will instantly bring you back to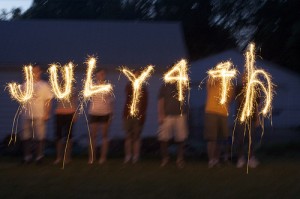 childhood. It's physically impossible to hold a sparkler with a straight face. In fact, you might want to pick up an extra box or two for future days when Adultitis is reeking havoc on your household. If you're up for being even more creative, check out these photos (here and here) for some inspiration to take sparklering (yes, it's a word) to a whole new level. Sparkle on, friends!
2. Spaghetti and Meatballs
This is what my sisters and I would yell (at the top of our lungs, mind you) during the city fireworks as kids when we would see fireworks that looked like, well… spaghetti and meatballs. You've heard of cloud watching? It's the same concept, except using the fireworks. Have fun calling out what you see above you… Rain! Cousin It! Frisbees! Elbow pasta! Sometimes we'd just yell out the colors all together. Honestly, any kid will attest, it's just fun to yell in unison. Give it a try!
3. Spit for Sport
What would you like to spit? Watermelon seeds, cherry pits, Lemonheads, olive stones, or even crickets?! (They're dead, but does that make it any better?) You can spit at targets (Bozo bucket style), go for speed, or for the longest distance. You could even create a dart board on the ground with chalk. If you decide to go for distance, you might find these numbers inspiring: The world record for the longest cherry pit spit is 100 ft., 4 in. The longest watermelon seed spit is 68 ft. and 9 1/8 in., and the longest cricket spit is 32 ft. and 1/2 in. held by one of our fellow Madisonians, Dan Capps in 1998. Go Madison bug man!
4. U.S.A. Sundaes
Create a red, white, and blue sundae bar. Pick up some patriotic bowls and those mini flags to top 'em off . Go all out with the red, white and blue yummies. Red: raspberry sherbet, strawberry ice cream, strawberry syrup, cherries, raspberries, strawberries. White: vanilla ice cream, whipped cream, white chocolate chips, pound cake. Blue: blueberries, blackberries, blue raspberry topping, m&m's. Feel like a patriotic piggy as you fill your bowl with goodies that would make Uncle Sam proud.