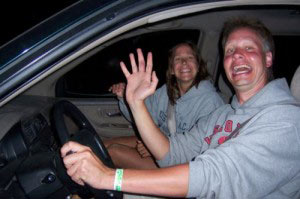 Our buddy Lance over at The Jungle of Life posted an interview with me and Kim about our new book, our new life with a baby, and what we'd do if we were stranded in the middle of Wisconsin for a year.
You may remember Lance from our collaboration on the Laugh Flash we did in Madison a few months back. It was fun to answer his creative questions, and I love the fact that he added his own commentary in response to our answers. Here's a sample from the interview:
Lance: A fun day as a family – tell me what that might consist of.
Jason: Hmm. Very low key, that's for sure. Lounging around. Being goofy. Good food. A nice walk by the lake or a visit to the zoo. The elaborate and more expensive experiences are great, but I quite like the simple fun that can be had doing everyday things. Most people are living life too fast to notice some of the Cracker Jack prizes hidden right under their nose.
Kim: Jason hit it on the head. People think of us as the adventurous type and in many ways we are, but we sure love to be lazy together as a family. I'd add to his list- movies, a drive to get Dairy Queen, and some homemade cheesy beer and brat soup- hey, we DO live in Wisconsin!
Lance: Deep down, what makes you uniquely "you"? Kim? Jason?
Jason: Deep down, I think I am as curious and creative as ever. That's the little boy in me shining through. I have a great sense of wonder about things, about people, and about God. I hate structure and I hate rules, but I love to learn.
Kim: Deep down, I am a spunky little five-year-old girl that refuses to grow-up into a grumpy 'ol adult. I like wearing mismatched clothes. I hate making the bed and doing the dishes. I'll eat three rows of brownies if no one is looking. I'm just looking to have as much fun as possible while I'm here. I think this life is a gift and I'm not going to waste what I've been given.
Lance also had some neat things to say about There's An Adult In My Soup:
I'm currently reading this book, and it's great! And one thing I really love are the short chapters (it fits my attention span well!). More than that, though, I think it's really a great "idea generator". You two share real-life examples of living Adultitis-free, and those are examples that spur thoughts in me of how I can be more kid-like myself. And that right there is the real "meat" in that soup!
Thanks to Lance for the kind words and the fun conversation. Hop on over to read the full interview and get a chance to win a copy of the book. Of course, if that fails, we've got a copy with your name on it at The Lemonade Stand.