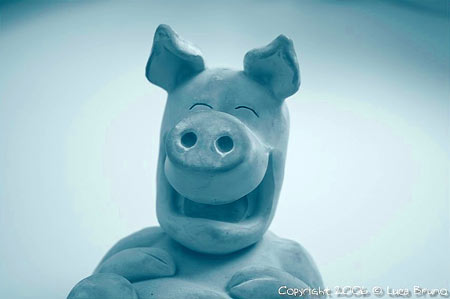 People are freaking out about the swine flu! Talk of it is everywhere. Heck, it's a national emergency. Vaccinations! Hospitalizations! Deaths! I am in agreement that this is serious stuff. I'm taking precautions, believe me. However…dare I say there is a silent epidemic sweeping the globe that is far deadlier than any flu?
There is, indeed! It's sneaking into almost EVERY household without even the thought of a vaccination.
Did you know that if you are one of the 95% of adults living with Adultitis that you are more susceptible to contracting H1N1 than the few folks who don't have it? It weakens your immune system — big time! Adultitis can sneak up on you when you least expect it. In fact, if you have laughed less than 15 times today, you are probably struggling with a VERY serious case. Get tested NOW!
Us folks at the Cure Adultitis Institute are always on the lookout for ways to prevent and cure this deadly disease. When we find tips, we like to get them to you as soon as possible so you can fight the good fight against this silent monster.
There are countless easy prescriptions to prevent and treat Adultitis without having to get stuck with a needle. (Yay – I hate needles!) In fact, I am excitedly participating in one this Saturday. The Levity Project is coming to Chicago!! You may remember that Lance Ekum from Jungle of Life, along with Jason and I, hosted a Levity Project Laughter Flash back in August. It was a blast! Check out the video here.
Well, The Levity Project brainchild, Katie West (The Levity Coach™), is gathering together folks from all over the Midwest (and beyond!) to meet up on Chicago this Saturday, November 7th, from 11:00-1:00. We'll be riding a double decker bus in downtown Chicago and participating in three different levity experiences as a group. Why? Well, as Katie shares on her blog:
A. because it is wicked fun, adventurous and cool thing to do. B. Because they believe the world needs greater lightness and joy! And this is a fun way to shake it up! Let's create social change through laughter, play, and celebration together. Cheers to fostering a lighter society.
Amen, sister!
Lance and I are road-triping from Wisconsin together to be a part of this fabulous Adultitis-preventing event. Forget your antibacterial soaps or face masks this weekend, we're going to have some good 'ol fashion fun as a way to prevent flu, heart attacks, depression, and even simple old cases of the grumpies. I hope my face hurts from smiling so much. Hope to see you there!