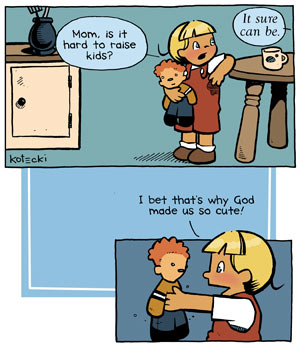 Well, we did it. My wife and I made it to the one-year mark. (Oh, and so did Lucy.) The first two weeks seemed like a millennium, the last fifty seemed like a millisecond.
So, what have I learned, if anything?
• It sounds so dang cliché to say, "It's harder than I imagined, but better than I imagined." It may be cliche, but is it ever true.
• I'm still trying to figure out what a "normal" schedule should be. I'm never quite sure I'm spending time correctly. I feel like I'm still trying to get in a groove. It seems like I should have it figured out by now. I also get the feeling that "normal" is gone forever.
• I can be with Lucy, OR I can work on something else. Either way I'm a pretty patient person. But trying to do both at once drives me insane and obliterates my patience.
• Baby diapers can really STINK. But I don't mind changing them as much as I thought I would. I think dirty diapers are overhyped.
• Most of the world is out of whack when it comes to life balance. What most would consider standard operating procedure is way over the edge, if you ask me. I think we all need to slow the hell down for two seconds and stop trying to be and do and have everything.
• We avoided colic but got to experience the worst of teething. Pick your poison, I guess…
[Read the rest of this article over at Dad-O-Matic, a cool site for Dads, by Dads.]