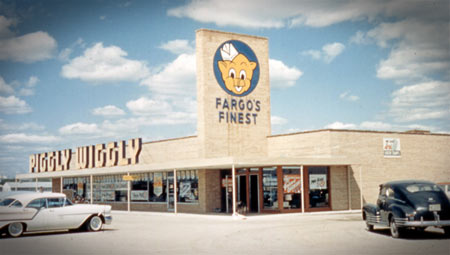 I am the worst grocery shopper — ever. I've found that many of the reasons I was able to teach kindergarten effectively all fly in the face of being a good grocery shopper. Being easily distracted with a short attention span and the endless aisles of marketing mayhem do not serve me well. It's a mess. Thank goodness Jason took over all of our shopping (and cooking) when Lucy was born. (Yeah for Lucy being born!)
The worst is when I would make one of those quick stops — you know the kind: "I'll just run in for a few things." Ha!
Inevitably, I'd grab the plastic basket, thinking it would somehow keep me from picking up too much. After all, I really did only need a few things. Ten minutes later, I'm stranded way back in dairy trying to conjure up a plan for how I'm going to get to the checkout without dropping everything. The basket is too heavy to carry with one hand, but I need a hand to get the gallon of milk (which is the ONE thing we actually needed). The eggs are teetering on top and every time I take a step the bread gets squished more and more. Help! I told you I was the worst grocery shopper ever, especially because this has happened to me countless times.
This image of me with the overflowing basket is what I thought of today when I read the definition for the word "balance." Everyone seems to be seeking balance. How do you achieve it? What does it look like? Is it possible? Is it a myth?
The verb balance is defined as "putting something in a steady position so that it does not fall."
Aren't we all seeking the magic formula that will help us align all of the teeny tiny sections of our lives, making them steady so that they will not come toppling down at a moment's notice?
I know I am. I also know I am not alone.
Being a work-at-home mom, it's a daily challenge to align the pieces of my life so that everything gets done and all the while I am somehow smiling and having fun. Lucy needs a diaper, that email needs to be sent, the bathroom needs a wipe down, I should call that client back, Jason needs clean pants for his gig tomorrow, I need a shower and some chocolate. It seems crazy most days, but balance is worth fighting for.
If you feel like your life is out of balance, it's time to do what I should've done time and time again with that darn basket of groceries:
Carry less. Set a few things down. Reprioritize what absorbs your time and figure out a few things that can wait until a different season of life.
Ask for help. Look around and find people to help you carry your load.
Stick to your list. Take time to plan out your week as a family. Say no to the temptations that come up at the last minute that steal your time.
Make sure you remembered the Oreos. Don't forget to reward yourself along the way. You don't have to choose emotional eating, like I do. Just be sure to allow yourself to be rewarded along the journey. :)