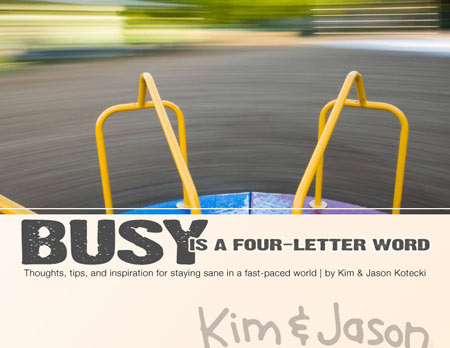 We call people who get our weekly email newsletter Kim & Jason Insiders. Because not only are they the most prominent people in Kim & Jason Nation, but because they get the behind-the-scenes stuff and extra goodies no one else gets. The inside scoop, if you will.
Every weekly issue features an extra bit of something to chew on and a special Adultitis-fighting tip that's not posted here on the blog. This week's issue highlights a brand new ebook we just put the finishing touches on.
It's titled, Busy is a Four-Letter Word: Thoughts, Tips and Inspiration for Staying Sane in a Fast-Paced World. It's 54 pages of candid, no-nonsense insight about this thing called busyness and how you can keep it from taking over your world.
It's completely free, but as you might have guessed, only available to Kim & Jason Insiders.
If you haven't already, now's a good time to join the ranks.