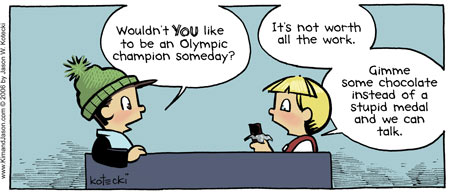 We've had several speaking gigs since the Olympics has started and I'm finding it's a great conversation piece for people. There seems to be a common denominator of interest: the individual stories and montages. The most inspiring ones are the ones where the Olympian overcame a major adversity to get to where they are today – whether injury, personal defeat, loss of a loved one, or just years of discipline and sacrifice.
If you're not happy for Shen Xue and Zhao, the Chinese pair skaters (and married couple), who finally won gold, then you may not be human. That's simply an awesome story! Or Lindsey Vonn skiing through her recent shin injuries (OUCH!) to take the gold on the slopes in downhill, the first American woman to do so — now that's strength and focus. These stories warm your heart and make you proud of the power of the human spirit. But is this remarkable spirit limited only to athletes or is the Olympics merely a tangible showcase of the spirit we ALL possess?
Unless you're already training for the 2012 summer games in London or heading to Sochi in 2014, you need to start training for your own personal victory…
What's YOUR gold medal?
What's the one goal that you would sacrifice TONS to accomplish? That thing that you believe to be possible, but not without a remarkable amount of discipline and strength of character, some moxie, a decent dose of stubbornness, and a boatload of courage.
It's the same goal that sends chills down your spine when you think about achieving it. It makes your heart skip with excitement and anticipation when you envision the reality of its accomplishment.
The reason these individual Olympian stories are so inspiring and fun to learn about is because they help instill us with the confidence that great achievements are possible with some honest perseverance and spirit. It's never easy. It's a road filled with countless falls, doubts, fears, and critics. However, the gold is always worth the journey.
I believe the road of everyday life is filled with potential champions. We are all destined for our own greatness — in our own little worlds.
Jason and I are always working towards gold in different areas of our lives. We walked away with gold medals two Decembers ago when Lucy entered our lives. Anyone who knows our story knows that we had spent the previous eight years of our married life together working and sacrificing to get to a point where having a family would be supported by our business of helping people live lives with less stress and more fun. We "trained" for this gold year after year: going without what our peers were attaining, toiling, praying, hoping that one day our efforts would pay off. To provide us with a lifestyle that we dreamed of, one where we could work together on our mission and have a family (and not have to live in that crappy apartment anymore!) Our hard work and faith ultimately paid off.
So, what's YOUR gold medal?
Don't sit on the sidelines. Don't settle for just getting on the podium. Fight for the gold in your life.
Let me tell you, it's worth it.