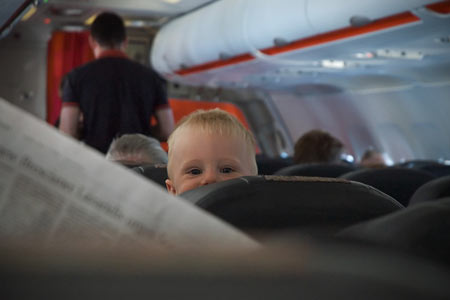 Looking for a surefire way to acquire a "Full-Blown" case of Adultitis?
Two words: air travel
The experience of flying is guaranteed to morph even the most "glass half full" type of person into a cynical scrooge – or your money back. (Ha!) Who knew a hefty case of Adultitis was free with the price of a plane ticket? And being the contagious disease that it is, it's quite tricky to escape the spread when you're quarantined in small planes and stuffy airports.
I've been noticing more and more complaints on Facebook from my road warrior speaker friends. The stressors are obvious: uncommunicated delays, extra fees, overcrowded planes, kicking toddlers (aka Lucy), smelly food, overly talkative seatmates, edgy flight attendants, oversized bags in overhead bins, and we haven't even started to talk about security screening. I call it the Super Security Shuffle, as you wiggle your shoes and belt off and shimmy all of your electronics out of your bags. Fun stuff!
"The flying experience is terrible," says Anne Banas, executive editor of SmarterTravel.com. "You're getting less legroom. People fight over things like capacity in overhead bins. Airlines are charging bag fees. … Airlines are doing things that are making it more difficult and uncomfortable for the passenger, and the customer service isn't getting that much better. You compound those factors, and you have a lot of frustration in the air." Frustration can lead to bad manners. (Source: USA Today)
And that it does. It's almost as if manners and common courtesy are checked at the curb with your luggage.
"People ask us all the time how do you combat the rudeness," Lizzie Post says. "I go out there, and I'm one less rude person. You consider things. I'm not going to bring my really smelly fish leftovers on the plane. I'm going to bring a turkey sandwich. Bring along headphones to block out noise, and it's fine to politely inform a seatmate that you're not in the mood to chat." (Source: USA Today)
I agree with Lizzie. In fact, I think you can even take this a step further. Instead of the "If you can't beat 'em, join 'em" mentality – why not try to fight Adultitis head-on with some proactive fun? Here's a list of 5 ways to combat Adultitis as you fly. You'll notice this list is not your average ho-hum list of ways to stay positive and let things go — it's an aggressive approach to fighting the frustrations that lead to Adultitis in the skies. Hope this helps your next trip go more smoothly…with a LOT more fun.
1. Chocolatey Happiness
Pack a bag of bite-sized Snickers in your carry-on and give them out as needed. "But when?" you might be asking. You'll know. For example, you might share a few as a thank you to the airline employee helping you reschedule a delayed flight or to the guy who was willing to change seats with you so that you could sit next to your hubby. My favorite idea, though, is to share some with the kid behind you with the kicking problem. And if nothing else, you can eat them for dinner when you're stuck at your gate with no plane. Chocolate is a good quick cure for pending Adultitis. Guaranteed.
2. Instant Smile Factory
Wear something that will automatically generate smiles from complete strangers. What you pick is based on YOU and what fits your personality. Here are some ideas: A goofy hat with fake hair attached (here and here), fun t-shirts (here, here or here), a clown nose (have extra to pass out to enthused fans), a cupcake beanie, a mullet, funny glasses, or Billy Bob teeth. The grumpy seasoned traveler behind you in line might actually crack a smile when he sees someone not taking themselves too seriously, which might actually challenge him to do the same. Ya never know… pigs may fly.
3. Planning for Prevention
Everyone is freaked out about getting through security. As long as you leave your shotgun at home, security is not as scary as it's made out to be. Jason and I have found a number of very simple things you can do ahead of time to help things go smoother. It's amazing what shortcuts you learn when you log 34 flights with a baby. Here are a few of my favorites:
wear pants without a belt
get some slip-on shoes
leave your watch in your carry-on
pack all of your liquids in the bag you are checking
pack an empty water bottle in your carry-on to fill at a water fountain once you're past security
make sure you have a few healthy snacks in your carry-on for delays
pack earplugs and/or an iPod.
Those poor TSA folks are at the highest risk for Adultitis (being surrounded by anxious and frustrated people all day), so be sure to share a smile and a hello. They are people too, even if they may look like robots.
4. BYOF (Bring Your Own Fun)
Delays and cancellations: inevitably the quickest way to Full Blown Adultitis. It's almost unavoidable, unless you plan ahead for an alternative fix amidst the frustration. Bring your own fun to pass the time in case your trip is extended longer than you had thought. You'll be surprised how many people around you instantly make eye-contact and initiate interaction when they see you're actually willing to let yourself have fun, especially in a time when you should not be (according to the Adultitis-sufferers). Pack things like 3D drawing pads, a light-up disco bouncing ball, colored bubbles (be sure to transfer to a 3 oz. container), a friendship bracelet kit, a yodelling pickle, gnome bowling, or even desktop cornhole. Who says you HAVE to sit and mope while you wait and wait and wait?
5. Share and Share Alike
You know THAT moment, when the flight has been delayed a third time and the reality is setting in that people will definitely NOT be making their connecting flights. Ouch. Shortly after the news sets in, you can cut the Adultitis with a knife. It would be nice to lighten the mood. Be the bearer of gifts. Provide your neighboring passengers with something fun to lighten things up. Your carry-on can fit a few tchotchkes that will get your fellow flight-mates smiling again. How about packing a bunch of tiny umbrellas for their drinks, temporary tattoos, tiny rubber duckies, leis, pirate eye patches, or sticky hands. People LOVE to receive something free – no matter how small or meaningless it might be. And in the end, seeing all of their surprised smiles will really cheer YOU up too.
What other ideas do YOU have for fighting Adultitis while flying?