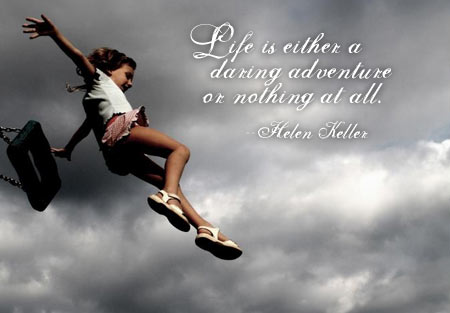 Most people I run into seemed bored with their life. The status quo for a "happy life" these days is pretty watered down, pretty blah. Once you get your demanding (and often life-sucking) career, the 2.5 kids, the dog, the house with the white picket fence, two nice cars, yadda yadda… you should officially find happiness (as if it arrives in a FedEx box upon completion of such requirements.) But does this magic formula for happiness really work? If so, why are so many people so darn bored, seeking fleeting moments of happiness in trivial things?
"Life is either a daring adventure or nothing at all."
— Helen Keller
Hate to say it, Helen, but I think too many people would categorize their lives as "nothing at all."
In the words of my favorite celebrity chef, Gordon Ramsey, "What a SHAME!" (In an English accent, of course.)
Is YOUR life a daring adventure?
If not, I have to tell you that you are setting yourself up for a major case of the DBRs (death bed regrets). DBRs are in many cases worse than Adultitis because there is very little you can do about it. At least in identifying Adultitis, you can usually start turning things around immediately, but at the end of your life, time is your biggest enemy. DBR's do not afford you the time to do much of anything, except wonder, "What if?"
One of the major goals in our company is to help people get to the end of their lives with as few "I wish I woulda's" as possible.
I wish I woulda…
learned to play an instrument.
traveled outside of the country.
earned a college degree.
volunteered for that important charity.
went sky diving.
gotten my pilot's license.
learned a foreign language.
gone to the Super Bowl.
run the Boston Marathon.
adopted a child.
You need to muster up the courage (moxie, guts, faith, matzah balls — whatever) to turn that "what if" into an opportunity — a new daring adventure.
What's stopping you?
I believe that deep down, under the layers of fear and uncertainty, a childlike spirit is inside of you just DYING for a little adventure, for the chance to show your spunk. I GUARANTEE you that you were NOT a boring child!
If you let that child come out to play, what would he/she beg you to do first? ("Pretty please, please, please!!!")
I once heard a story about an elderly woman who was encouraged to go back to college. It was something she'd always wanted to do, but concerned about her advanced age, she exclaimed, "Do you know how old I'll be when I graduate?"
"Yes," said her wise friend. "The same age you'd be if you don't."
If your heart is still ticking, you're here for a reason. Don't waste that adventurous childlike spirit on a boring life.
At the end of the Curious George movie that came out a few years back, the "Man With the Yellow Hat" said to George, "You don't need to go around the world to have a great adventure. YOU brought adventure to my life and now that's all that matters."
Travel within yourself to find your adventure.
And go for it. Leave the "I wish I woulda's" for someone else.
George and I will be cheering you on!
Sign up to receive our free newsletter to get regular reminders and tips for stressing less and having more fun. Consider it a well-deserved jolt of happiness for your inbox.