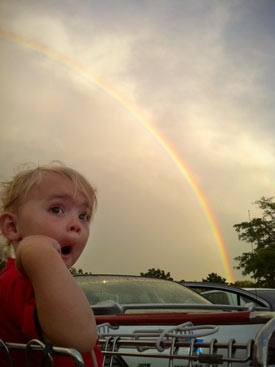 Lucy and I experienced quite an amazing site the other night and I bet you'll never guess where…
After all of the travels this kid has done so far (34 flights in 20 months), one of the coolest sights was found right in our local grocery store parking lot! (Isn't that how life goes?!)
We walked out with our cart full of yummies to find a FULL rainbow right before our eyes. It spanned the entire sky. (I felt five!)
"WOOOWWW!" Lucy instantly proclaimed in her shaky toddler voice, pointing up at one of the coolest things I had ever seen in my 32 years. I found myself echoing her joy and awe. It was sure something! So big! So bright! And it's so rare to see both ends. Upon closer inspection, there were actually two rainbows, the second one fainter but there in the shadow of the first.
Lucy had certainly labeled this right — "WOOOWWW!"
I pulled the cart off to the side and we enjoyed the beauty together — delighting in one another's joy. We stuck around for probably five minutes just enjoying the show in the sky.
That five minutes taught me a lot about my fellow shoppers. We saw a few people who also enjoyed the rainbow by shooting pictures or leaning on their cars, just taking it in. Cool.
The large majority of people, however, were much too busy to stop. Adultitis was running rampant right there before my eyes. It made me sad AND mad. About 90% of the people we saw did not even acknowledge the rainbow AT ALL. They were coming out of the store, rushing to their cars, eager to get to the next thing. [Sidenote: There's NO WAY you could've missed it, as it stretched across the entire sky of this wide open parking lot.]
I wanted so badly to approach one of these individuals and say….
"Hello?! Seriously?! It's a full, double rainbow, for crying out loud! How many times in your lifetime have you seen this? Are you really THAT busy not to stop for even a second?"
What would they have said?
Somehow, with less than 24 months of life experience, Lucy knew instinctively that this rainbow was a BIG deal.
How quickly we let the busyness of life's to-do list preoccupy our ability to delight in the beauty and wonder right here in our midst. The rainbow was an obvious one, but it begs an important question: what are you missing today?
Sign up to receive our free newsletter to get regular reminders and tips for stressing less and having more fun. Consider it a well-deserved jolt of happiness for your inbox.