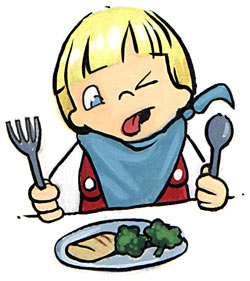 I am convinced that every single adult — no matter their profession or educational background — is a salesperson in some form or another.
If you are a parent, you are constantly selling to you kids, persuading them to try hard in school, stay away from the wrong crowd, be polite. Heck, I am selling Lucy on veggies every night at 6 p.m. Teachers sell good conduct and self-sufficiency. Nurses sell healthy habits and discipline. Managers sell hard work, respect and communication. If you are ever persuading others to do something or act in a certain way, or you find yourself promoting something or someone, then you my friend, are in sales. Sure, you might not get a pink Cadillac in five years, but you are a salesperson in your own corner of the world.
You HAVE to make sales fun — no matter what — or no one will buy what you happen to be selling.
When I was teaching kindergarten, I ran into an issue when, at the end of the school year, my students had no clue what "math" was. A parent asked her son if he liked math and he didn't know what she was talking about. "What's math?" he said.
I was asked, "Are you NOT teaching math? Because my son doesn't even know what it is!"
Oh boy! Well, I had labeled my math time each day as "Game Time" and we played (math) games every single day. The students had no clue they were learning math skills. To them, they were just having fun. Game Time sounds much more appealing than Math Time. It was a much easier sell.
A fellow speaker friend of ours, Chris Clarke-Epstein, recently shared a story with us that perfectly illustrates how fun can change the conversation in sales…
"We have been struggling with prospective clients who won't return calls or emails about their dates. We've tried emails and phone calls with disappointing results! So, we put pen to paper and composed a poem to see if that would work. We thought you'd be proud of our "Don't give in to Adultitis!" creativity:

You called us and asked if we'd help your group –
It was our great pleasure to give you the scoop.
We're holding a date and that is just fine,
But really, we need to talk one more time.

Would you answer this email or return our call?
We just need a minute, it won't hurt at all!
Updating our records via computer or phone
After a yes, no, or maybe – we'll leave you alone.

Is it a no? – just tell us so.
Is it a yes? – we shouldn't guess.
Even a maybe? – we get that a lot.
Just send us a message, and our pestering will stop!
Isn't that AWESOME?! Chris went on to share, "It worked! Our contact responded within a few hours of the poem being sent! Whoopee!"
Fun gets our attention. It encourages a response.
Lucy has been eating her dreaded beans lately because every time she eats one, Jason and I simultaneously hoot and pump our arms, like the early 90s comedian Arsenio Hall. (Woof, woof, woof!) In fact, the one time we forgot to hoot, she pumped her own little toddler arm and yelled "Woof." Did she buy what we were selling? You bet… not only does she eat her beans, she's having a blast.
So, what are YOU selling?
Are you making it fun?
If not, what can you do to jazz up your pitch?