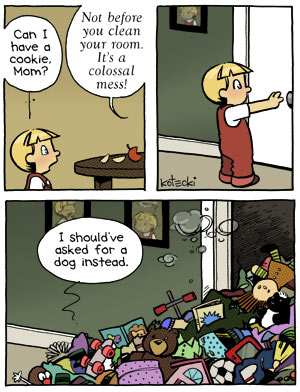 I am officially sick of stuff. I'm overwhelmed by it all. As much as I try to limit the amount of stuff coming into my life, it still shows up on my doorstep.
Literally.
Exhibit A: I walked out to get the mail yesterday and found Rock & Roll Elmo in a brown grocery bag with a note, "Dear Lucy, I need a home and new batteries. Love, Neighbor Lisa." This is Neighbor Lisa's second toy drop-off. Her grandkids no longer appreciate the joyfully high-pitched singing of this furry muppet, so she's excited to see another small friend enjoy him. Super thoughtful!
And I must say, Lucy enjoys Lisa's unexpected surprises. But in all honestly, Elmo's arrival into our home is like a physical manifestation of the following theory:
"If you don't pay attention to the stuff that makes its way into your life, that stuff will eventually take over your life."
You see, Jason and I have tried to proactively limit the amount of plastic/electronic toys Lucy owns. Our thought is that if it requires batteries, then it probably doesn't require much creativity or critical thinking. We would never have bought Rock & Roll Elmo for Lucy. But here he is, singing his little heart out and banging away at his guitar on the living room floor. (Lord, help me!) In fact, in regards to toys, we can count on two hands how many toys we've actually purchased for Lucy and yet somehow we still have three large totes filled to the brim that we rotate each week.
(Side note: The weekly rotating bins of toys has been one of the best pieces of advice I've ever received! There are fewer toys lying around the house AND she actually plays with them because they're fresh. You're geniuses, Colosimos!)
Stuff can be suffocating. And the more you have, the more space you need to hold it all. Think about how the size of homes has changed over the last 100 years. My grandparents lived in a house that was 900 square feet. The house I grew up in was 1,800. I know many people who have homes that are double that. Something tells me those houses are filled with lots of stuff.
Am I saying stuff is bad?
No. I'm just saying, why do you need it all?
Is it making you happier, or is it complicating things?
After 10 years of marriage and accumulation, Jason and I are taking a stand against stuff. We are going on a "Stuff Diet." We currently have stuff in our home that we do not want or need. We're going to watch our intake ever more vigilantly and exercise purging. It's going to be refreshing to pare down the stuff in our household.
No doubt, the process can be overwhelming. Where do you start? Here are 6 ways to start a Stuff Diet…
1. Be On Guard
Watch like a vigilant hawk. Miss nothing that comes into your home. If it's not a consumable product, then ask, WHY is this entering my house? Is there a purpose? If so, FINE. If not, catch it before it finds a place to collect dust. Be disciplined about asking the question.
2. Goodwilling as a Verb
Set aside a spot in your garage for a Goodwill box, a permanent place to put items you plan on Goodwilling. So, if something comes into your home that you have no purpose for, it now has an official spot until it makes the trek to its knew home. Important note: do not, I repeat, DO NOT, feel guilty about Goodwilling a gift you just received. Acknowledge the thoughtfulness and then let it go.
3. The Weekly Tackle Box
Pick one thing to tackle each week. A corner of boxes in the garage, a closet, or a dresser. Identify one weeknight and spend an hour tackling that one thing. Over the course of a year, you will have managed to work the equivalent of seven weekends worth of full Saturdays. It's much less painful to give up one hour a week, versus seven precious Saturdays. (Hat tip to Jason's parents who have been doing this as a couple for the last several months. They call it their "date night," and have seen remarkable results.)
4. Finding a Home Within Your Home
Every single thing you own needs to have a home. If you have a tendency to have a full kitchen counter, a cluttered night stand, or a trashed car, stop drowning in the stuff by finding a place for everything. Things like unopened mail, your purse, and slippers often go homeless because you've never identified a spot. Analyze what makes up the piles of junk that keep multiplying. Find a home for it or pitch it.
5. Bye, Bye Beanie Babies
Collections are not horrible but some people outgrow their collection and yet hold onto it because they never stop to ask this simple question: Is this collection still meaningful to me? Maybe at one time in your life, the Holiday Barbies were a BIG deal. Now they take up half of the hall closet. One word: eBay. Make a little cash off of that one meaningful mound of memories. Acknowledge the good times once had, and use the money to create some new ones. If you're having a hard time letting go, take photos of them all, make a memory book, then move forward.
Our friend Adam (aka Baker) has a great, insanely affordable product for anyone looking to make money by cutting down on clutter. It's called Sell Your Crap, and it not only delivers detailed step-by-step instructions (with pictures!) for selling your unwanted things on eBay, Craigslist, and Amazon.com, but it actually deals with why your stuff is suffocating your potential and helps you to remove the roadblocks that keep you from letting go. And Adam and his wife Courtney know what they're talking about: in 2009 they sold nearly all of their possessions and set off to travel indefinitely overseas. With a toddler in tow!
6. Gifting Memories
Instead of gifting stuff, give opportunities and experiences. Things like a gift certificates for a new adventure (hot air balloon, boat ride, sky diving), tickets to a show or concert, or lessons to learn something new (musical instrument, cooking, ballroom dancing)… these gifts don't take up space in the house and create both memories and chances to grow in knowledge and life experience.
Will you join us in paring down your household in an effort to win the battle against the distraction and overwhelm of stuff?
What will you do this month to start your Stuff Diet? What tricks do you have to share with the rest of us?