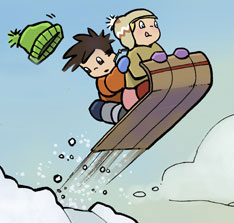 We all know the importance of staying active, and of course, burning a few extra calories is never a bad thing for the 'ol waistline. In fact, more than 120 million Americans, or 64.5% of the adult population, are overweight, and almost 59 million, or 31%, are obese. If you're like me, however, exercise can sometimes feel like a chore, inducing Adultitis.
When I was little I had no problem being active. In fact, I distinctly remember my mom shaking her head at me and saying, "I wish I had your energy!" My secret? I was having fun! Running around playing tag sure didn't feel like exercise, and it certainly wasn't as boring as running on a treadmill. Play is a child's work. So, if you're looking at the scale and wondering how you're going to manage to lose those pounds this year without losing your sanity, check out these ideas from years past. This list is the 9-5 of childhood. Be inspired to add a few of these ideas to your 5-9.
1. Go on a bike ride.
2. Build a snowman.
3. Have a dance party in your living room.
4. Play hopscotch.
5. Walk around a museum.
6. Enjoy a rousing game of flashlight tag.
7. Climb a mountain or hill.
8. Play kickball.
9. Go swimming.
10. Have a water fight.
11. Plant a garden.
12. Build a sand castle.
13. Play musical chairs.
14. Take a factory tour.
15. Decorate your driveway with sidewalk chalk.
16. Go horseback riding.
17. Play catch.
18. Try archery.
19. Learn to juggle.
20. Fly a kite.
21. Play home run derby.
22. Go ice skating.
23. Join a team for a sport you love.
24. Take a walk with your camera.
25. Play dodge ball.
26. Run through an obstacle course.
27. Go fishing.
28. Take a sunrise walk.
29. Play tag.
30. Enjoy some mini golf.
31. Go bowling.
32. Work on a home improvement project.
33. Learn to play an instrument.
34. Go on a walk with your binoculars.
35. Play with a Wii.
36. Jump rope.
37. Take a dance class.
38. Go to a zoo.
39. Try skiing.
40. Roller skate or roller blade.
41. Play Red Rover.
42. Go Christmas caroling.
43. Have a snowball fight.
44. Learn martial arts.
45. Take a nighttime hike.
46. Play H.O.R.S.E.
47. Skip rocks.
48. Play frisbee golf.
49. Have fun with a pitch back.
50. Go sledding.
51. Paddle a canoe.
52. Ride a scooter.
53. Play pickle.
54. Run through the sprinkler.
55. Toss water balloons.
56. Play capture the flag.