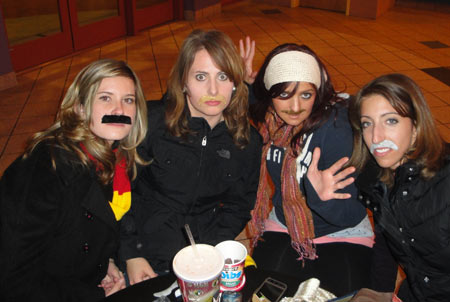 "This photo is of me and my friends waiting to watch Harry Potter and the Deathly Hallows Pt. 1. We found a mustache quarter machine and spent a good half hour entertaining ourselves with them. I'm on the far right."
Kim & Jason Nation is a playful group of fun folks who share a joyful, indomitable childlike spirit and are not afraid to let that spirit come out to play! They're united by a common goal of fighting Adultitis and the doo-doo heads who embrace its ideals. Quite frankly, they're pretty much the coolest people on the planet. Here's one right now…
• My hometown is… Grand Junction, CO
• My biggest dream… to be an underwater archeologist.
• My inspiration… is my mom. She goes after her dreams.
• When I was a kid, I… was shy.
• One way I stay childlike is… I watch every animated movie ever made, I read the comics every day, and I watch Scooby Doo on a regular basis.
• What I know so far… It sucks to be an adult sometimes.
• My favorite things about "Kim & Jason" is… the many ideas that help to keep us all young at heart.
We saved a space just for YOU in Kim & Jason Nation — sign up to become a K&J Insider today!