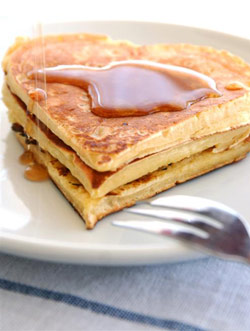 Mornings in most households are a little like attending a NASCAR event. It's intense. Lots of noise. You've got people moving at varying speeds. And in the end, you're hoping everyone gets across the finish line (out the door) without a major catastrophe.
Ever wonder what your day would be like for yourself and your kids if the morning was more like a symphony? Yes, there's still a great deal of noise, but it's harmonious. Still intense at times, but only for short periods and mixed with moments of peacefulness. Although everyone is playing their own instruments, each person is working together for a common purpose (to get out the door without a major catastrophe). Ha!
A small rebellion popped into my inbox recently which proved that the symphony morning scenario is actually physically possible in a busy household of school-aged children and two working parents. Carrie, a recent attendee of one of Jason's programs, emailed me the following in response to my question asking her if she had a nice Valentine's Day…
We did indeed have a good Valentine's Day. I'm putting Jason's advice into action… Monday morning I got up early, set the table with china and linens and made heart-shaped pancakes, etc. for my husband and the kids before school.

Amazing!

Such little effort and such big rewards. The smiles on their faces when they saw it was so sweet. My daughter told me on her way to school that it was the best Valentine's Day ever – and the day had just begun.
This act of rebellion — challenging the notion that every morning has to be the same as the one before — boldly fighting against the deadly effect of ruts and ultimately Adultitis, is AWESOME. Thanks, Carrie, for sharing that fancy dinner (or in your case, a fancy breakfast), with your family in a way that made them see so clearly how much you love them. Your act of love is one they will never forget, I guarantee it.
Isn't it about time for you to have a fancy dinner?