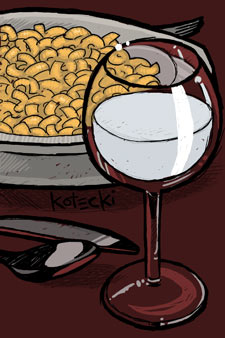 Raise your hand if you've ever been married. Keep it up if you received some beautiful dinnerware as a wedding gift that has never seen an actual dinner table.
Wow, that's a lot of hands.
We are proud of our fancy china. We display it up on a shelf or in a cabinet specially made for such things. Most of us intend to use it someday, we're just waiting for the right occasion. Judging by how infrequently we use the stuff, apparently we're waiting for the Pope or the President or Peyton Manning to call us up and say, "Hey, I was gonna be in the neighborhood. Mind if I stop over for dinner?"
It's clear that our bar for "special occasions" is set pretty high.
But what if…
What if you pulled out the good stuff on some random…Wednesday? What if you set the table with the fancy china and a luxurious fabric tablecloth? What if you turned the lights down low and lit a few candles? What if you turned on some jazz or classical music? What if you served drinks in wine glasses — even if the menu was only macaroni and cheese and milk?
Why not?
What this does is serve as an important symbol that any time you spend sharing a meal with people you love — whether it's your spouse, best friend, or family — is indeed a special occasion. More than that, it's blessed. Holy, even.
In our frantic lives, meal time increasingly becomes just another thing to check off the list between meetings and soccer practice. And it's your family that pays the price.
When you get to the end of your life, and you're sharing favorite memories with loved ones, the Disneyworld vacation or the trip to the Grand Canyon will get mentioned, but most of the time will be spent recounting those simple moments around the dinner table. Traditions. Stories. Memories.
"Remember that time when…?"
"Remember how you used to…?"
"Remember that one story you always told…?"
I've been sharing this idea of having more "fancy" dinners in my recent speaking programs. The other day, I got an email from an audience member who decide to give it a try. Here's her account of how it went:
Hey Jason,

I just wanted to write and say thanks for sharing your ideas. My husband and I have 5 kids ranging in age from 15-1/2 to 2-1/2. We decided to have a candle light dinner with the kids — it was so much fun! We broke out the good dishes and silverware, drank our milk in wine glasses, etc.  The oldest two were really confused and the 8-year-old said nothing but her expression of "Where are our real parents?" was enough to tickle my funny bone. As we were setting the table, and they were noticing this was no ordinary Sunday night dinner, they were asking, "Did we win the lottery? Are you having another baby?" and lots of other hilarious questions. It was priceless…

Thanks again for inspiring us to LIVE!!!

Take care,
Cindy and Pete Payne and kids
Eastman, WI
This is a moment — a memory — that you could create this very evening. Easy.
But you have to be willing to give the good china a change of scenery. I know that the good stuff is expensive and hard — impossible sometimes — to replace. You don't want a plate to get chipped or broken. If you're going to risk doing damage, you want to make sure it's a worthy occasion.
But just for a moment, think of someone you love who's passed away.
A spouse.
A parent.
A child.
Wouldn't you do just about anything to have one more dinner with that person?
Now tell me that having dinner on a Wednesday with someone you love isn't a special occasion.