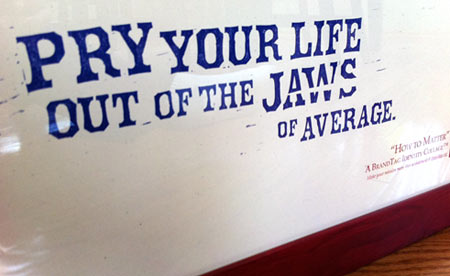 Every once in a while someone pops into my life that just knocks me on my butt for one reason or another. In the midst of this cold and dreary "spring" (aka extended winter), I have been painfully craving the fresh perspective that spring inevitably brings me. From the tulips to the chirping birds, spring is just good for my soul. Since it's been so delayed here in Wisconsin, I have struggled to keep my positive playful perspective, as I tend to rely on the change in seasons for a boost that didn't come through when I thought it would this year.
Although the weather dropped the ball, a perfect stranger from Utah did come through BIG time in providing for me the VERY inspiration I had been hungry for. Her name is Amy, and she is a 32-year-old early childhood professional who found herself in one of Jason's audiences in April. She emailed Jason shortly after hearing him to share that she was inspired to start her very own "Amy Annihilates Adultitis" blog, tracking her progress through the 40-day Escape Plan we created a few years ago. In her own words from her first post on the blog, she shared…
"While I try to hang on to my inner child (and isn't she adorable?), much of the demands of adulthood have wormed their way into my life, almost suffocating her at times.

Part of escaping adulthood, for me, means learning to trust other people, having spare time to fill with a moderate amount of me time and fun time (as opposed to stress time), and to simply be grateful for what I have and stop fretting over what I have not.

I think I just need to find the happy medium between striving to create a better story and loving the story that's already begun."
Wow. What a profound assessment. I encourage you to read her entire first entry. It's such an honest take on her life – one that few people get to unless they get that dreaded news from the doctor or the late night phone call about someone they love. She is challenging herself to change her perspective and it's amazingly inspiring to follow her journey.
As a side note, Jason and I recently received a SUPER DUPER cool gift (a Brandtag) from our dear friend, the Nametag Guy, Scott Ginsberg. On it there is a quote that Scott wrote that jumps out to me every time I look at it…
"Pry your life out of the jaws of average." — Scott Ginsberg
Amy's journey is the perfect example of what this quote is talking about. So many people exist in mediocrity. It's safe, comfortable, and socially acceptable. But, to truly live a remarkably joyful life, I would argue that you have to choose to "pry your life out of the jaws of average." (Well put, Scott!!)
I invite you to share Amy's journey and get a daily illustration of what this quote is all about. So far she's up to Challenge #11 out of 40. She even has a section of her blog for her Small Rebellions, the simple, fun and often random things she does on the days she's unable to complete a challenge. Way cool!
Just to give you a taste of her "Escape" so far, in three short weeks she's taken the initiative to learn about veganism (something she was curious about), she celebrated the completion of her first half marathon (kick butt, Amy!!), joyfully colored pictures in coloring books, added childlike goodness to her vanity and shower, conducted a silly experiment on Facebook (which was hilarious, btw), indulged herself with shopping at her favorite store with her sister, had an honest conversation with herself about her dreams (which was powerful — thanks for your honesty, Amy!), left some funny surprising pictures for her sister and co-worker, and she even gave blood (you're MY hero!!). After Challenge #8, she shared…
8 Challenges down and I must say that I feel the benefits! I'm way less stressed, even though I had all my finals this week. I was able to slow down and do some fun things and some meaningful things, and I still finished my homework and papers and tests. (Speaking of papers, I got an "A" on every single one, thank you very much!) I've been able to start getting my new apartment in order, as well. I thought I was too busy to begin doing that. But as Kim and Jason say, "busy" is the new four-letter word. I'm no longer going to be busy. I'm simply going to be. :)
Thank you, Amy, for being my "spring" this year. Your shining example is as uplifting to me as a field full of daffodils! May your journey continue to be fun, enlightening, and filled with new revelations about living an Adultitis-free life. Journey on, my friend!
Cheer her on with us and be challenged to find the motivation to bring your own life to a new level of living. And maybe now would be the perfect time for YOU to begin your own Escape Plan or embark on some Cheap Family Fun with your favorite people.