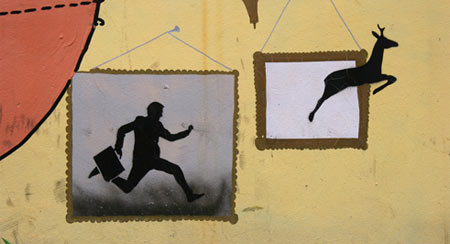 A few years ago Jason and I got a chance to interview marketing guru Seth Godin for our magazine. Being off the charts creative and passionate about his work (and someone we look up to greatly), I should not have been surprised with his answer to our question, "What is your favorite way to 'escape adulthood?'"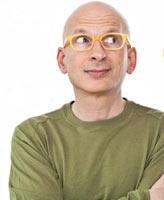 Seth's answer was, "Setting up a life you don't need to escape sounds good to me."
Amen to that! Brilliantly simple, but NOT easy. And yet, worth EVERY ounce of effort.
How about YOU? Have you designed your life to be one that you don't need to escape?
If not, what will it take for you to do so? A career change (in THIS economy!), relocation, down-sizing, working overtime for a while, or maybe just a major attitude adjustment? Whatever it takes, prepare yourself with the reality that you will be met with Resistance.* Your actions towards improving the quality of your life (whatever that looks like for you) will rock other peoples' boats of comfortability. There are a slew of folks walking around living life chronically disinterested. If you become an example of how life doesn't have to be so boring, living only for the weekends, your actions may challenge a few people look in the mirror — often the scariest place to look in life.
Jason and I were married for over 8 years before we had Lucy and so we got a lot of "You'll see's" and "Just wait's" over the course of that *almost* decade. Things like…
"Oh, you don't drink coffee? Just wait until you have kids!"'
"How are you going to travel when you have kids? You'll see…"
"You pay for your own health insurance? Just wait until you have a family. That won't be realistic."
It gets old hearing everyone else's excuses for being miserable when Jason and I have worked hard (and risked tons along the way) to design our life to be one that we love. We all need to challenge each other to do just what Seth advocates.
If your life is worth escaping on a regular basis, you're doing something wrong.
What can you do this week to start designing your life to be something you don't need to escape?
*P.S. For a classic book on how to deal with Resistance, this is a must-read.