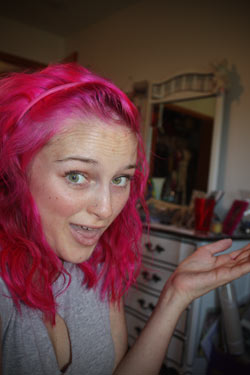 Kim & Jason Nation is a playful group of rebels who share a joyful, indomitable childlike spirit and are not afraid to let that spirit come out to play! They're united by a common goal of fighting Adultitis and the doo-doo heads who embrace its ideals. Quite frankly, they're pretty much the coolest people on the planet. Here's one right now…
• My hometown is… Washington, Iowa.
• My biggest dream…To fufill my life with happiness and experience's that I can take everywhere with me.
• My inspiration… I had cancer when I was 5. I just feel like it's a sign that I can't hold back in life and that I should LIVE.
• When I was a kid, I… Danced, colored, took adventures in my back yard, rolled down the hill, even inside an empty trash can (my older brother told me it would be fun…), Slid down the stairs in a laundry basket, played office in my moms walk-in closet (don't know why), Played dress-up (mom's make-up and all), Cops and robbers, jumped in puddles (rain and mud puddles), jumped in the leaves, sat on my dad's feet and got flipped in the air, etc…
• My favorite childhood toy was… my Barbie Jeep car.
• One way I stay childlike is… I work at a daycare. Best. Job. Ever!
• What I know so far… There is no one to impress. I need not to accomplish any one thing, except to live and live happy.
• My favorite things about "Kim & Jason" is… They "get" how you're supposed to live life. And they just want you to do the same.
We saved a space just for YOU in Kim & Jason Nation — join the small rebellion and sign up to become a K&J Insider today!