Where do modern superheroes go to purchase the latest in high-quality crimefighting gear?
The Brooklyn Superhero Supply Company, of course.
Believe it or not, it is a real place. They sell capes of all styles and colors, deflector bracelets, utility belts, secret identity kits, evil blob containment units, and more. They even have a cape testing wind tunnel in which you can try out capes for free. The sign out front advertises sidekick replacement services and their ability to custom order alter egos.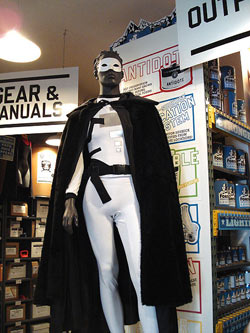 This real-life store also happens to be a real-life front for a real-life charity.
826NYC is a nonprofit organization (located in Park Slope, Brooklyn) dedicated to supporting students ages 6 to 18 with their creative and expository writing skills, and to helping teachers inspire their students to write. Services are structured around the belief that great leaps in learning can happen with one-on-one attention, and that strong writing skills are fundamental to future success.
826NYC is located in a secret lair behind the Brooklyn Superhero Supply Company, and the student learning and activity center lies behind a swinging bookcase. All the sales from the store (which is run by volunteers) goes to support the charitable organization.
Not only is this a tremendous example of an Adultitis Hospital, it's a great lesson about the importance of adding the element of fun.
Times are tough and the economy is in the toilet. Teaching kids writing skills is a wonderful and worthy aim, but so are most of the missions of the other nonprofits competing for the same dollars that are in increasingly short supply. With a superhuman amount of creativity, 826NYC has created an appealing, attention-getting "front" that draws people in and gets them having fun. Meanwhile, the visitors are introduced to an organization doing great work, which leads to greater awareness and more money for the charity.
In many ways, this is exactly what Kim and I have done with great success. Tons of speakers talk about stress and work life balance. What we have done is create a "front" of nostalgic childlike fun, to get people's attention, keep them engaged, and share our life changing message.
Or, as s speaker friend of mine named Roger likes to say, "I get the audience laughing, and when their mouths are open, I give them something to chew on."
Exactly. Roger creates a front of fun in order to get people to engage with his chief aim.
Of course, you needn't be a nonprofit organization or a professional speaker to take advantage of creating a front of your own.
Are you a teacher struggling to keep the attention of your students when presenting some important — but somewhat boring — subject matter?
Are you a health care professional having a hard time getting your patients to take their medicine or do their therapy?
Are you a manager desperate to get your workers to increase their sales or improve their safety ratings?
Are you a parent trying to get your kids to clean their rooms or eat their vegetables?
Learn from the Brooklyn Superhero Supply Company and create a front of fun. Wrap your chief aim in a metaphor that is fun, humorous and interesting. It will probably take some heavy thinking (do you think the richness and depth of the superhero store happened overnight?), but the effort will be more than worth it in terms of engagement.
If that doesn't work, you could always try a 16 oz. can of Mind Control.