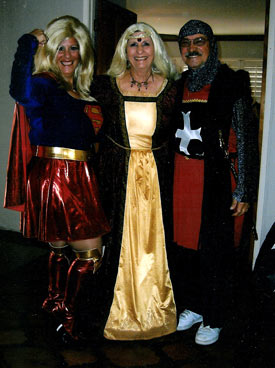 Kim & Jason Nation is a playful group of rebels who share a joyful, indomitable childlike spirit and are not afraid to let that spirit come out to play! They're united by a common goal of fighting Adultitis and the doo-doo heads who embrace its ideals. Quite frankly, they're pretty much the coolest people on the planet. Here's one right now…
• My hometown is… Menifee, California.
• My biggest dream…Is to keep myself healthy so that I can continue to keep up with my Grandchildren.
• My inspiration… My Dad and my great Grandmother. My Dad taught me to always keep the child alive inside as he did. Halloween and Christmas was his favorite time of year. My photo shows me with my parents, my dad was age 85 in this photo, my mom 80, and me 50. My great Grandmother at age 94 came out to California, went to Disneyland and WALKED the whole park until it closed at midnight. My dad tried to get her a wheelchair and she refused, saying it would slow her down.
• When I was a kid, I… All of us kids would be outside playing hide and go seek, and my dad was always acting like he was running his fastest to make it to home base, but looking back, he was actually trying to let us catch him…
• My favorite childhood toy was… Chatty Cathy, and my Bicycle.
• One way I stay childlike is… When I go to the park, I am still the first one to jump on the swings, or go down the slide, love amusement parks, and get up and dance with my teenage grandchildren. And if there is a baby in the house, you will find me on the floor playing with blocks, toy cars, and stuffed animals.
• What I know so far… That I may have to be a grown-up some of the time, but that doesn't mean I can't be silly and playful the rest of the time.
• My favorite things about "Kim & Jason" is… You let the rest of the world know that having fun is ok and making others laugh is what life is all about. Thanks for all that you do!
We saved a space just for YOU in Kim & Jason Nation — join the small rebellion and sign up to become a K&J Insider today!