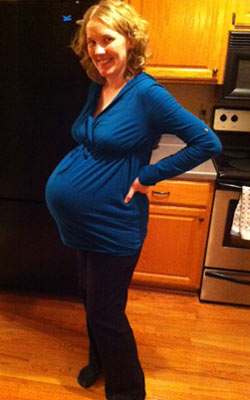 Thirty-seven weeks and counting. Baby "Poom" (as Lucy has fondly named her little sibling) should be arriving soon, and I would be lying if I said I wasn't anticipating like crazy. Will it be a boy? A girl? Who will he/she look like? How will Lucy adjust? So many things to daydream about… and, oh yeah, I'm ready to be a mobile person again — instead of a Weeble. Luckily, Lucy is low to the ground and helps by picking things up for me. I just wish she could tie my shoes!
People have been warning us: "Now you'll be playing one-on-one defense. It's a whole new game." (Thanks, Adultitis-ridden ones!)
With optimism, faith and lots of Adultitis-fighting tools in our belt, we're ready to become a family of four. With more balls to juggle comes an even greater commitment to the lessons we hold dear. Communication and organization are two huge secret weapons to any major life transition. My sister-in-law (a super fun mom of three school-age kiddos) recently shared with me a really cool idea to help with all of the paperwork associated with school and extra-curriculars. It's definitely a keeper. (It may even involve a Trapper Keeper — remember those? My sister had one with a horse on it — ha!).
She shared…
"I came up with a cool idea that I wanted to share with you. It's called "The Mom Binder." I feel bombarded every day with papers from all 3 of the kids! It doesn't take long for it to pile up and things get disorganized and lost. Plus our fridge looks like a hot mess. I have implemented The Mom Binder to solve this problem. I bought a hot pink binder and I organized all of my important papers in there. Each child has their own folder and I have a few others categorized to our needs. The binder also has a file fold and some pockets to store stuff. This has become my "go to" and keeps things organized."
I love how she is able to keep ahead of the chaos of paperwork and schedules with this simple and super effective tool.
What "can't live without" tools do you have in YOUR Adultitis-fighting tool belt?