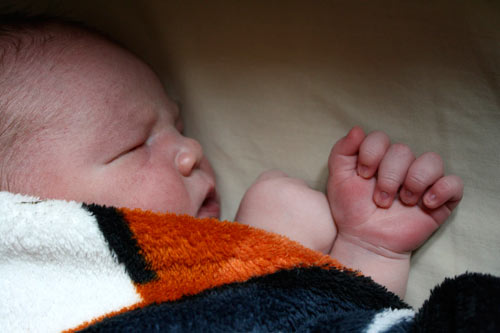 Ben is five weeks old, which means we have officially survived "hell month," as many call it. Our first month included the holidays — yikes, what a crazy marathon! I'd be lying if I said it wasn't a challenge, but it's all behind us now.
Joy is at an all time HIGH when I'm holding Ben. He is the chillest little man I've ever met. I just can't get enough of his baby smell and adorable little noises. By far, the suckiest part of the whole "new baby" scenario is the night feedings — getting up every 2-3 hours really tests my sanity — and by late afternoon if I haven't managed to sneak in a nap, my cup is pretty empty.
This past month I've been reminded just HOW important kick-butt teamwork and communication is between Jason and I. It takes effort as we try to make this delicate balance happen yet again. As we gear up for month two, we graduate to the next step: traveling as a family of four. First up is a week-long road trip to Minnesota for three gigs followed by a trip to Florida, which will Ben's first flight.
I can't help but be a bit reflective as a ponder some things in my heart about Ben's journey into our lives. So, for all of you birth junkies out there, here's Ben's home birth story…

Wait. What? A Home Birth?
Years ago, I had never thought that I would be having a home birth. When we were trying for our first child, I did research on economical alternatives to not having prenatal/delivery insurance coverage. (Ah, the joys of being self-employed!) We could have purchased a maternity rider on our high deductable plan, but it would have been VERY costly for many years. It was recommended that I look into a midwife, and the more research I did about midwives the more I discovered (to my delight) that their philosophy on prenatal care, birth, and breastfeeding aligned quite perfectly with mine and Jason's.
Our research brought us to the Madison Birth Center, which was a bit of a comfort zone stretch at first, to be honest. Not birthing in a hospital? What the heck was a "birth center?" Would our parents think we'd gone crazy? We had a number of questions and concerns (as did our families), which were all addressed and put to bed (at least for us — maybe not everyone in our families) after our first visit with Anastasia, one of the three midwives catching babies at the MBC. Some of our questions (and answers) included:
What happens if we need to go to the hospital for an emergency? (Emergency services are on call and hospitals are very close.)
What are the chances of needing a c-section? (Very low. About 5%, compared to over 30% in hospitals.)
What if the baby is breach? (There are a number of techniques that midwives can suggest to turn the baby naturally. If they don't work, you get to take a trip to the hospital.)
Is this safe? (For low-risk women, a planned birth center or home birth is as safe as a hospital birth. Women giving birth in these settings experience lower rates of intervention in birth, including lower usage of drugs, lower rates of induction, lower rates of episiotomy, fewer operative births, and lower cesarean section rates without compromising the safety of their births.)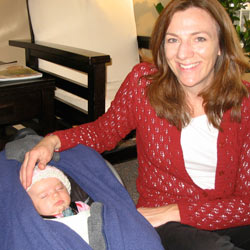 Interestingly, Anastasia would ultimately be the midwife who assisted Lucy's birth in December 2008.
The warm, relaxed setting of the Birth Center provided a home-like atmosphere, one with dim lighting in a bedroom that felt like our own. Even though we were originally led to the birth center for financial reasons, the out-of-hospital advantages were a gift. The one-on-one attention and care that is simply unmatched in today's healthcare environment, the option to have a water birth (which I tried and LOVED — so much so I can't imagine birthing any other way), the holistic approach and efforts to have a natural birth with no interventions, and the 60-90 minute prenatal appointments (with loving support that prepared us not only physically, but emotionally and spiritually to become parents)…these were all things that made Lucy's birth a real blessing for us.
When I got pregnant with "Poom" (the name Lucy had affectionately given our baby the last 9 months), Jason and I started to strongly consider the idea of having a home birth. I was very curious about the pros and cons of a home birth. Do they bring a birthing tub? (I definitely wanted another water birth.) How do the appointments work? Are any separate safety concerns that are different from the risks that were already addressed prior to our experience at the MBC?
After our first exploratory meeting with Mary and her intern Nichole, we became really excited about having a home birth. Right around this time we watched the documentary, "The Business of Being Born"which helped us to really own our philosophy and to feel like our perspective on natural childbirth was honored and celebrated.
The experience seemed too good to be true. All of our prenatal appointments were in our home (which was SO nice with a preschooler!). Mary was on-call for me 24-7 for 9+ months. We emailed and called at all hours of the day and night. We felt like we had been given the gold star treatment — with top of the line service — at a ridiculously low cost. I soon discovered for myself that there is no setting that matches the comfort of my own home. What a gift!
D-Day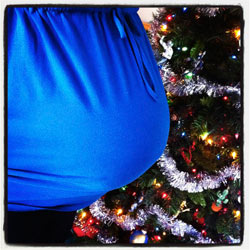 November 30 — four days from our due date — became a day of fun anticipation. It started when I rolled out of bed at 8 am. Oh my… it felt like I had peed my pants. After calling Mary, we confirmed that it may, in fact, be some amniotic fluid — perhaps a small leak. If it continued throughout the day, then it meant the next 12-24 hours would be VERY exciting. With every bathroom trip, I anxiously inspected the status and confidently confirmed that fun times were ahead.
The energy in the house changed quickly. There was an exciting hustle bustle of preparation. Jason busily started tackling his final list of things to get ready: cleaning/de-cluttering (a never-ending job with a 3-year-old in the house), dressing the bed with two layers of plastic and two layers of sheets, hanging Christmas lights around our bedroom window (per my request), and getting loose ends tied up, like paying bills and all of that fun stuff that would certainly get overlooked in the days to come. I did the final packing for Lucy's overnight bag for her "sleep-over" at Sue and Jenna's house. I got a chance to clean up email, and I even wrote a contract for a February gig in Florida, something we were all quite excited about.
Throughout my "nesting," I continued to subconsciously vision the birth, which I had been doing regularly for the past several months. My goal all along had been "8 hours." My logic was that I can do a workday. Lucy's birth was 22 hours from start to finish, with two hours of pushing — not something I wanted to repeat. Although it went smoothly, the length made for a large loss of blood, a longer recovery, and one exhausted new mama. So, with Poom's birth, I had spent the last several months talking through my vision with my midwives and letting the images dance in my head during my often sleepless nights. The vision was quite specific. This is what I wrote down on June 21st and had read countless times as the due date approached…
The home birth went 110% smoothly. The pain was tolerable/minimal and the experience of being at home was AWESOME. Labor and pushing went fast and before we knew it I was nursing a happy healthy baby, with absolutely no nursing complications. In many ways, this baby's birth and post-birth experience was TOTALLY different from Lucy's –- all improved with no fear and complete confidence. Mary and Nichole were such a gift to us and we will forever be bonded to them! My recovery was SO much easier than last time around. I could walk with ease immediately -– wow. I had very little pain and felt well rested.
At 2:50 p.m., I was checking things off my to-do list at my desk when I had my first "real" contraction. Tight, deep, low, crampy — yep, that was NO Braxton Hicks. This was the real deal! I grabbed a post-it note and wrote "2:50," in case this was going to be the start of something regular. To my excitement, fifteen minutes later, another one came. I wrote 3:05 on the post-it. After the next two, spaced almost exactly fifteen minutes apart, I called Mary to check-in. She advised to continue to keep track and call her when they feel "different." She shared in my excitement on the phone. I updated Jason and Jenna, who were both grinning from ear to ear.
Contractions and Christmas Carols
From 3:45-6:00 p.m., the contractions came closer and closer, and by the time Mary and Nichole walked in the door (passing Lucy and Jenna in the driveway on the way out), the contractions were around eight minutes apart.
I sat in our glider in the living room illuminated only by the lights from our newly decorated Christmas tree, enjoying the soft melodies of Christmas carols in the background. Jason sat on the couch near me, with a strong confidence and attentiveness. We both felt ready. Mary and Nichole sat on the floor and we chatted about the different sensations I was having. Mary sat with her clipboard, writing notes and closely observing, a beautiful balance between giving us attention and space. All four of us were calm and confident.
We laughed about some of the songs that turned up on our playlist. I also asked if they had any experience in their past work in hospitals with ladies who show up to deliver, having never known they were pregnant and this elicited a fun run of stories from Mary that we all enjoyed, serving as a great distraction from the increasing intensity of the contractions. Laughing was wonderful! Every few minutes I'd find myself closing my eyes to focus on the contraction. They continued to get closer and more intense — a nice gradual pace that was manageable.
After about 30 minutes of chillin', Mary and Nichole decided to go set up the bedroom (the room I had chosen as the place I'd like Poom to be born). They put down plastic on the floor, organized their supplies, pumped up the birthing pool, and added the first round of warm water.
When our bedroom was ready for the evening's adventures, they came back into the living room and again sat on the floor and we chatted about the progression of the intensity. After they gathered and assessed the progress, Mary suggested that they go out and grab some dinner and let us have some private time. They snuck out and Jason and I enjoyed an hour of "being" together. Talking (in between the contractions), anticipating, excitedly wrapping our brains around the fact that we would soon be the parents of another miracle. It was a nice hour! I rocked and rocked in the glider – using the sides as counter pressure during the intense, deep rushes… then rocking and relaxing when they were passed. It was very peaceful.
A Ruined Chair
About an hour later, Mary and Nichole came back and we were all ready for the next level. The contractions grew deeper, stronger, and closer together. I could feel myself uncontrollably making noises to help release the rush. I could feel the baby burrowing down with every contraction. Then about 10:30 it happened… right in the middle of the height of one of my contractions, I felt an amazing POP.
"Oh NO!!!," I said with a smile. "I just ruined our glider." It took a few moments for Jason to understand what I meant. "My water broke!" And it felt SO good because the pressure was relieved for a few minutes. This would be the start of an adventurous 50 minutes.
Mary said that if I wanted to get into the tub, I should probably go now. The warm water was down the hall in our bedroom and I was a bit freaked out about walking down our hallway from the living room. At this point it seemed like the length of ten football fields. Movement brought greater intensity and the contractions came sooner when I was up and moving, but I really wanted to be in that warm water, so it was worth the journey. Mary grabbed one arm, Jason grabbed the other, and we tried to hurry in between the contractions. We got about five steps in and yikes… I experienced the deepest, most intense contraction yet, to the point that the two of them were the only things holding me up. (Mary shared later than she was nervous that we should've put plastic down in the hallway!) It was moving fast now.
Into the Water
Jason jokes that when the tub was in sight, I leapt in. The water felt like the biggest relief — the weightlessness and warmth just enveloped my body. It was so welcome!!! In the next few contractions, I found myself transitioning to almost involuntary pushing. Pressure mounted, and I found myself asking/telling them that the head was RIGHT there. YEP! Indeed it was! I grabbed Jason's arm and leaned into him with every contraction. Burying my head into his arm was a huge comfort and connection for me, knowing he was right there with me. The pressure was intense. Mary and Nichole spoke softly and prepared for the next stage — the baby's big debut.
All of a sudden I was VERY hot. I asked for a wet wash cloth and they put it on my forehead. What a relief that cold cloth gave me!
It was time to plow through the last big intense contractions. These required much more focus than before. I prayed for strength. I visioned being very calm. I pictured Jesus' mother Mary in a barn with Joseph, with no midwives, giving birth with faith that everything would be alright. I gained confidence from this imagery, knowing that I was so much more supported physically than she was, but confident that God was with both of us. I imagined the baby making its way to the water.
Then I heard our midwife softly whispering, "Open yourself to your baby."
This reminder was HUGE. Amidst all of the emotions and intensity of the moment, that reminder really invited me to do just that. I visualized my body softening and opening and that's what was happening.
Pretty soon I heard them say, "The head is out. Do you want to feel the hair, you guys?" And we both did. WOW! SO cool. I remember that moment with Lucy, it is one of the coolest moments in my life. Reaching down and feeling the softest little hair, just one push away from being in my arms.
The next contraction was mounting. Mary encouraged, "One more big push, Kim."
Before I knew it, the baby was up on my chest. I remember him crying right away and making cute little noises. He was so warm, and I just held him close as Jason and I were speechless. After a few minutes, I said… did anyone see if it's a boy or girl? Nope… no one had. So, I gently lifted him off my chest and there he was, in all his glory! :) Benjamin Walter.
I said to Jason, "You got your son," and he said, "We got our son!" What a gift!!!
The Afterglow
The moments and hours to follow were very quiet, gentle and relaxing. The placenta was delivered after about 15 minutes and sat in a bowl next to us, so that Ben stayed connected to his chord for a longer while, giving him extra oxygen as he made his transition. Eventually, we moved to our bed where we laid and looked at him in awe. He was BIG. Bigger than we had originally thought. Meaty hands. Broad shoulders. Mary and Nichole joked that they both thought he'd be in the 9-pound range, but he seemed BIGGER.
He was able to start breastfeeding pretty quickly and got his first meal successfully, which we were all thrilled about. As Mary and Nichole went about their tasks of post birth duties of paperwork and clean-up, I held him on my chest and Jason and I marveled at the miracle in my arms.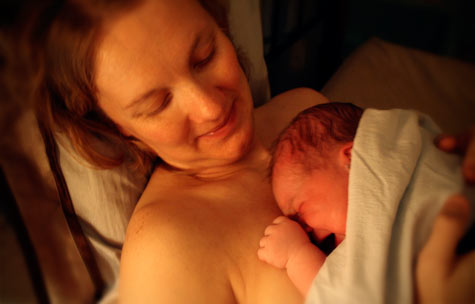 After a while, Jason helped to cut the chord and we spent the next hour just laying with him while the room was cleaned up and cleared of the tub. Nichole even thew a load of laundry into our washing machine! Shortly thereafter, the midwives worked with me, while Jason had some one-on-one time with Ben. I was doing great overall and only required a few stitches, which went very smoothly.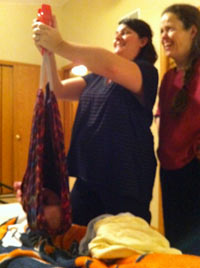 About 3 a.m., Nichole walked us through the newborn inspection… he was perfect! All ten toes, rolls galore, perfect complexion. Then, they weighed him. We all marveled at our 10-pound, 4-ounce, 21-inch long baby. This was a BIG boy and he was happy and content. What a thrill!
We talked through what to expect in the next 12 hours or so and when Mary and Nichole would be back the next day. We were looking forward to a family nap — by this point we were all exhausted. After saying goodbyes with emotional hugs, we all shared a joy that would be hard to top!
Napping was harder than I thought. I couldn't take my eyes off of him! I also couldn't wait to call his big sister and tell her to come and meet him. Much more joy was to come…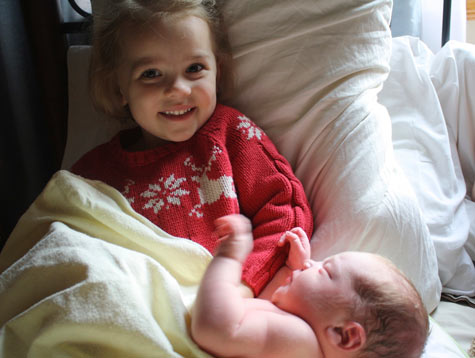 In the end, having Ben at home was the perfect decision for us. I felt so blessed to be there in my own bed, in my own home, with the Christmas lights shining and soft music playing, with my husband and new baby. Life couldn't get any better!
If you made it this far, you deserve a gold star or something. If I missed something you were curious about, or if you had any questions, leave a comment and I'll do my best to answer you. Thanks!